Have you ever craved crispy dishes without the guilt of oil? What if that treat also saved you money on energy? It's a win-win, right?
Meet our 5 best energy-efficient air fryers that are top in the market. They all offer you a brighter kitchen with low energy costs when the energy bills are climbing.
Dive in with me and find your kitchen gem, the ticket to delicious savings.
Why Energy Efficiency Air Fryer Matters
Before delving deep into the reviews, knowing why energy-efficient air fryers matter for every homeowner is essential.
We'll discuss it from 3 perspectives for your better understanding.
Part 1: From the Perspective Of Your Kitchen
The energy-efficient air fryers reduce your kitchen's carbon footprint during meal preparation.
Every electrical kitchen appliance contributes to environmental harm. So, using an energy-efficient air fryer will help reduce those harmful impacts.
It will not only save your bucks but also save the planet.
Drastically reducing your kitchen's carbon emissions, this air fryer will offer healthy meals. So, it reduces your medical costs.
Part 2: From the Perspective Of Air Fryers Working
Using Rapid Air Technology, an energy-efficient air fryer circulates hot air around food. So it cooks food quickly and evenly.
This air fryer requires a fraction of the oil compared to deep frying. But, the finish of your cooking will be crispy due to the heated air.
This air fryer heats faster to ensure energy efficiency than traditional frying setups.
This type of air fryer delivers you the desired crunch. And, of course, it's without wasting energy or drowning foods in oil.
Part 3: From the Perspective of Benefits
This air fryer will noticeably reduce your monthly utility bills. There is no extra cost in this economic recession.
Besides reducing monthly electric costs, it also ensures a longer life. That means no frequent air fryer replacement.
Energy efficient and the compact design air fryers need less space to use and store. It means the air fryer will save your countertop real estate.
Achieving the crispy texture with minimal oil will merge your health with flavour. And indirectly it reduces your grocery costs.
Best Energy Efficient Air Fryer At a Glance
Best For Versatility
Best For Large Family
Best For Personal Use
● Capacity - 5.3 quarts
● Temperature - 180°-400°F
● Wattage - 1350 watts
● Functionality- Air Fry, Roast, Broil, Grill, Bake, Dehydrate
● Capacity - 10 quarts
● Temperature - 93°-200°C
● Wattage - 1700 watts
● Functionality- Air Fryer, Rotisserie, Dehydrator, Convection Oven,
● Capacity - 1.1 quarts
● Temperature - 176°-395°F
● Wattage - 1000 watts
● Functionality- Air Fryer, Roast, Bake
● 7 cooking styles cover your all cooking needs
● Food taste remain intact using 85% less oil
● 60-minute timer with wide temp for perfect finish
● Excellent quality against the price range
● 98% oil-free meals each time you try
● No calorie stress foods boost your immune
● Easy to us with its 17 presets touch control
● Simple cleaning with a swipe and spin in your dishwasher
● Perfect for single serving within minutes
● Automatic shut off with a 30-minute timer
● Reduce monthly bill using 1000 watts
● 26 starter recipes for inspiration

On Amazon

On Amazon

On Amazon
1. Elite Gourmet EAF5317D Hot Air Fryer - Best For Versatility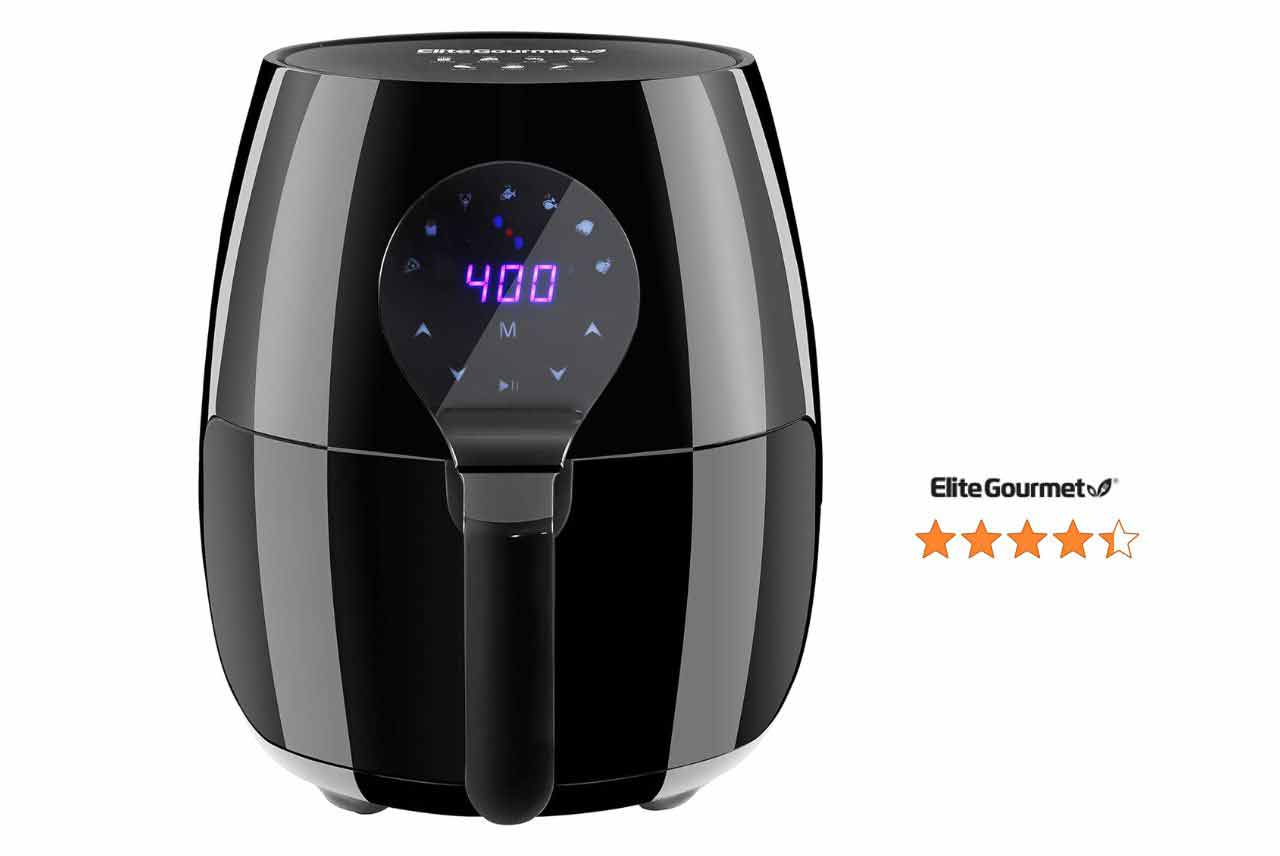 The Elite Gourmet EAF5317D Hot Air Fryer is an exemplar of versatility, designed to meet an array of culinary demands. Echoing the sustainable packaging we've come to appreciate, this air fryer arrives with minimal plastic use, aligning with eco-friendly preferences.
Its substantial 5.3-quart basket introduces a new dimension to kitchen appliances—likened to finding a ballroom amidst a maze of studio apartments. This spacious chamber comfortably accommodates a turkey or hosts a variety of foods, ideal for those sizable family gatherings.
The setup is straightforward, a delightful simplicity that echoes throughout its use. With a repertoire of over 50 recipes, the included guide is a treasure trove of culinary inspiration, ensuring that your menu remains as varied and exciting as your palate desires.
As for the food itself, the results are consistently impressive. From the succulent juiciness of chicken to the perfect fluffiness of potato chips, complete with a satisfying crunch, the Elite Gourmet ensures that flavor is never compromised, despite cutting down oil usage by an impressive 85%.
And when it comes to operation, this air fryer affords the user with effortless control. A range of temperatures, from 180° to 400°F, and a convenient 60-minute timer ensure that your dishes are cooked to perfection, with no risk of kitchen mishaps.
In essence, the Elite Gourmet's EAF5317D Hot Air Fryer is not just an appliance but a gateway to exploring a world of flavors, all while catering to the health-conscious and environmentally aware. Whether it's for a quick solo meal or a lavish family dinner, this air fryer stands ready to transform your cooking experiences.
Why Should You Buy This Airfryer?
Elite Gourmet Air Fryer gives you a  feeling like a trusty old friend. Always welcoming. Always reliable. Always supporting. You must grab it to taste many more crispy delights.
Rapid hot air circulation from a 360° angle
Vast room to cook 3.8 pounds of food per batch
Offer healthy dishes by cutting 80% of fat
Cleanup is a cinch dipping in the dishwasher
The knobs are flimsy; they should be more durable
2. CHEFMAN Multifunctional Digital Air Fryer - Best For Large Family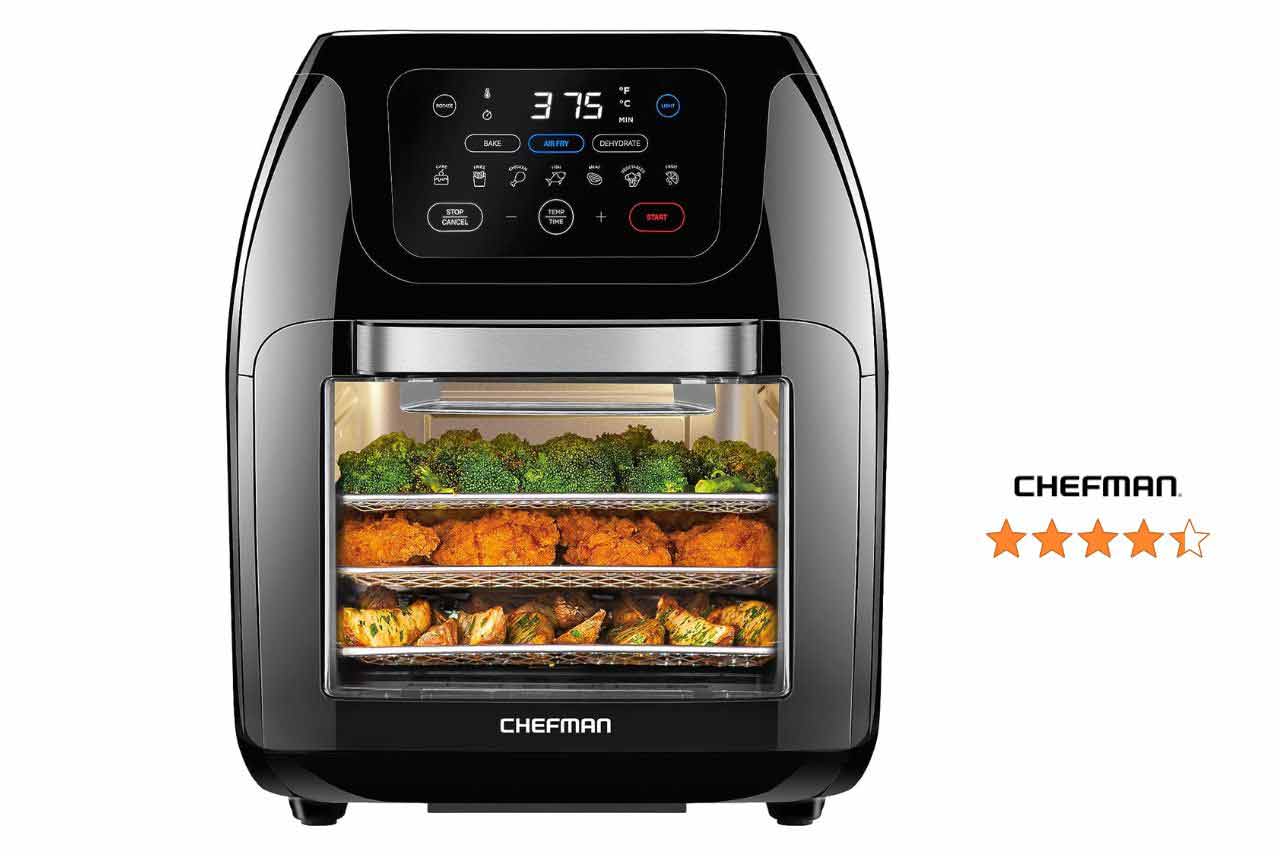 For those who regularly find themselves catering to a bustling household or playing host to gatherings, the necessity of an air fryer with substantial capacity cannot be overstated. Recognizing this, Chefman has introduced its 10L family-size air fryer, a true kitchen cornerstone that's as versatile as it is voluminous. It's akin to having a culinary expert at your beck and call, from air frying to roasting, always at the ready to rise to the occasion for any gastronomic challenge.
The common tedium of oven preheating is rendered obsolete with this appliance. Swift, uniform cooking yielding impeccably crispy outcomes is the hallmark of this air fryer, much to the delight of those with a watchful eye on health. The promise of nearly oil-free cuisine is not just a boon but a revolution for the calorie-conscious.
Yet, the virtues of the Chefman air fryer extend beyond its cooking capabilities. Its interface is a study in user-friendly design, with 17 touch presets that transform even the most novice kitchen inhabitant into a sorcerer of the stove. The expansive viewing window invites you to witness the transformation of ingredients into golden delicacies—a culinary spectacle in the comfort of your kitchen.
Post-feast, the thought of cleanup is but a minor inconvenience—a swift wipe and a cycle in the dishwasher are all that stand between you and your next kitchen adventure. This air fryer isn't merely an appliance; it's a companion for those who believe that a meal is more than sustenance—it's a performance.
Why Should You Buy This Airfryer?
Chefman rolls out the red carpet for you. Your meals will be delicious and healthy with this multifunction air fryer. And the reassuring 1-year guarantee will make you sold. Give it a try to delight many tummies.
Quality assurance with stainless steel inner material
Wide temperature range to meet all food requirements
The simple process with 17 preset touch control
Ensure healthy meals with 98% less oil
Not worth it for a small family
3. DASH Tasti-Crisp™ Electric Air Fryer - Best for Small Family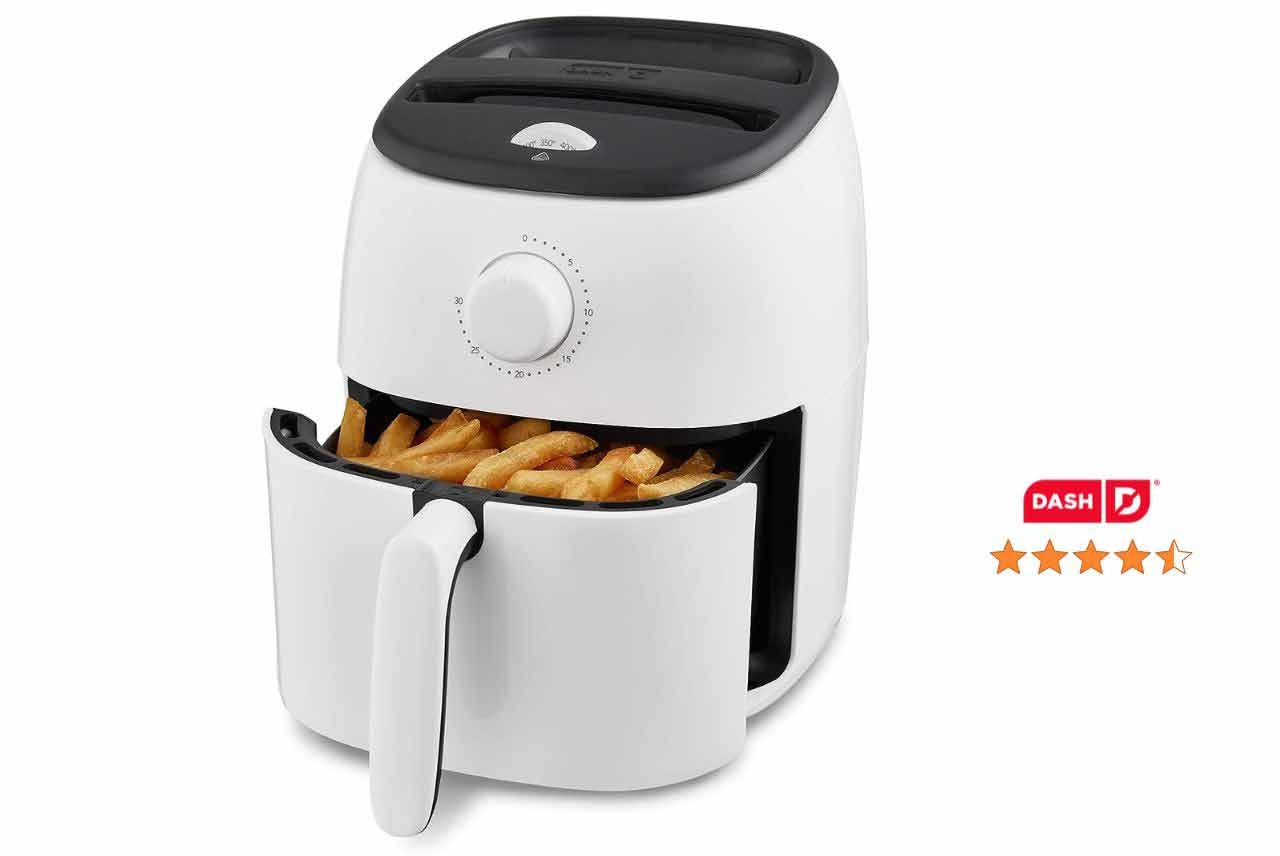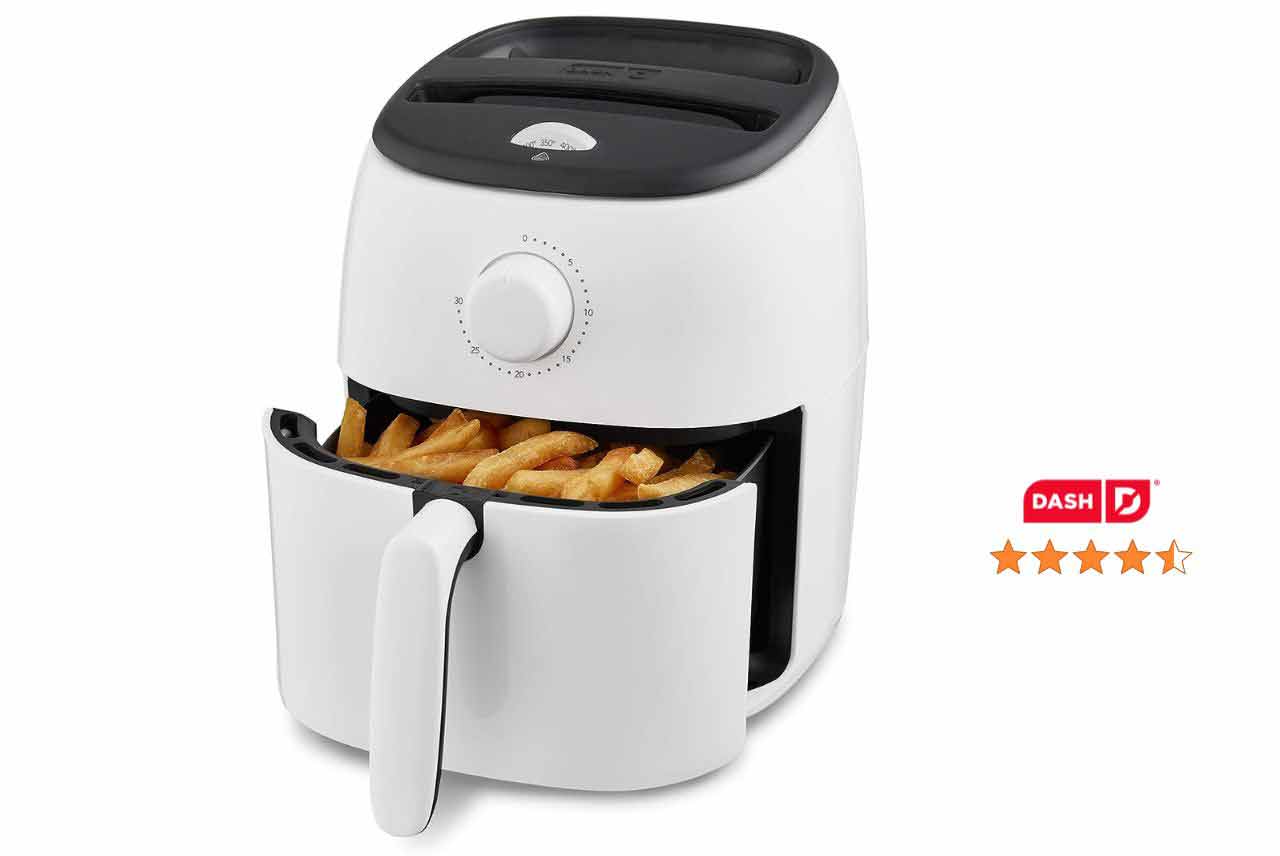 Embark on a culinary journey where sumptuousness aligns with healthfulness with the Dash Tasti-Crisp Air Fryer. Its innovative AirCrisp Technology defies conventional wisdom, proving that delectable does not necessitate a deluge of oil.
Picture savoring your favorite fried foods with a remarkable reduction in fat—70-80% less, to be exact. But the true transformation transcends the arithmetic of wellness, manifesting in each crunchy bite that promises a gustatory awakening.
For those constantly battling the clock, this air fryer emerges as a gallant ally. A swift load, a quick setting of temperature and timer, and you're off. Moments later, you're presented with impeccably crisped treats. Forgetfulness is forgiven here; the smart auto-shut-off feature guarantees your dishes reach perfection, never past.
The reengineered Crisper Basket is nothing short of brilliant, smartly crafted to optimize cooking performance within its snug frame. It's the touch of finesse that turns simple frozen goods into crowd-pleasers.
Regarding its footprint, the Dash Tasti-Crisp Air Fryer excels in spatial economy, effortlessly integrating into any niche, be it a bustling college dorm room or a quaint apartment kitchen. It doesn't just fit; it belongs.
Why Should You Buy This Airfryer?
The Dash air fryer will work great, cook perfectly, and do the basics. It performs excellently by making burgers and pizza, cooking fried chicken and wings, and toasting veggies. For quicker and easier cooking, you must choose it when you have a tight budget.
Prep crispy, delicious, yet healthy meals within minutes
No need to be tech-savvy to use it by pressing the button
Time and temperature always remain under control
Budget-friendly and compact size fits your wallet and countertop
It has no versatility and isn't suitable for a large family
4. Nuwave Brio Air Fryer - Best For Precision Control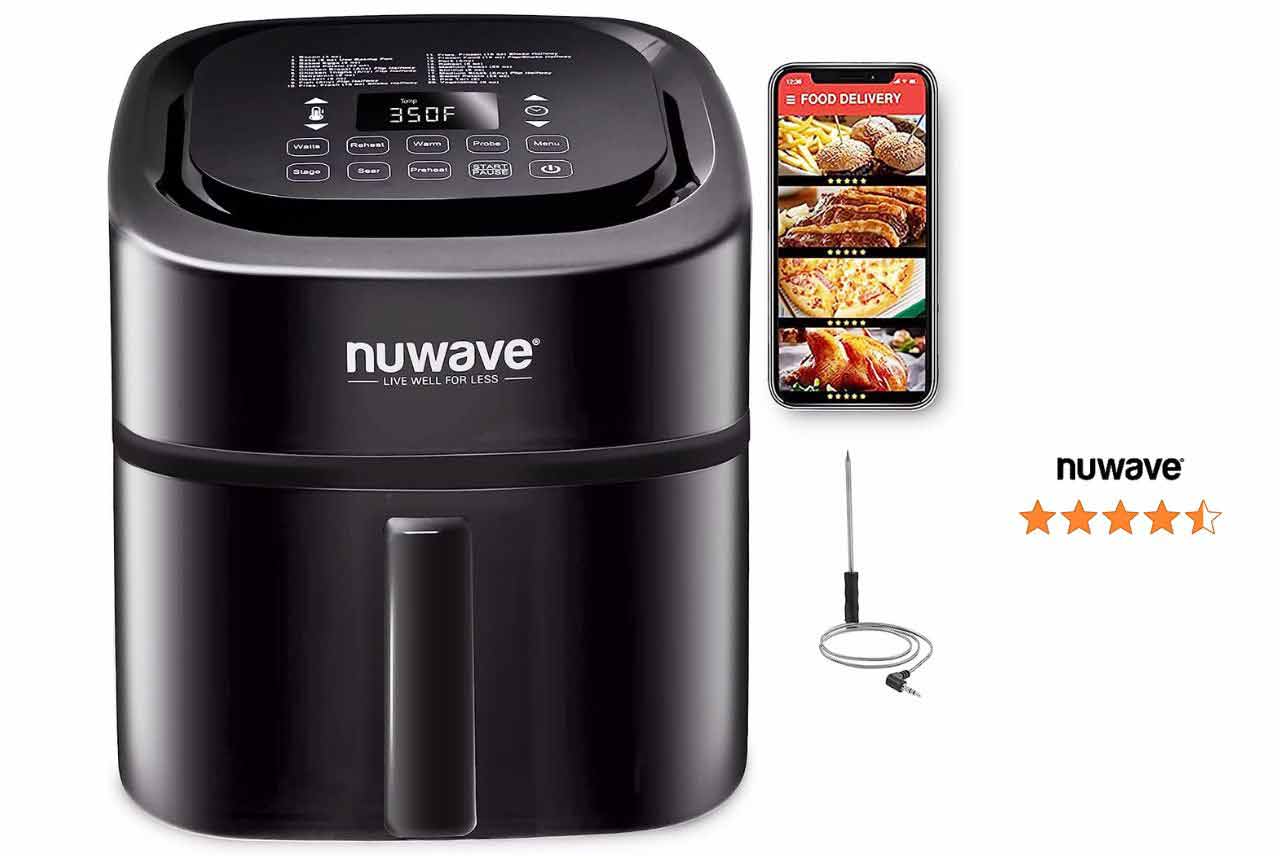 As you navigate the exciting landscape of contemporary kitchen gadgets, the Brio Air Fryer commands attention as a paragon of ease and accuracy. It stands ready to simplify your culinary endeavors, turning even the novice into a skilled home chef.
Ever found yourself mid-recipe, yearning to make instantaneous modifications? The Brio Air Fryer responds with grace, offering real-time adjustments without the need to reset your cooking process. Its intuitive digital controls place you firmly at the helm, ensuring your cooking experience is seamless and enjoyable.
And what of the quest for indulgent yet wholesome meals? The Brio Air Fryer delivers without compromise. Whether it's achieving the perfect crunch on your fries, the zest in your wings, the succulence in your chicken, or the fluffy warmth in your baked potato, the Brio brings a touch of health-forward innovation to each dish.
Gone are the days of grappling with oil splashes and post-meal guilt. With the Brio, frozen foods are transformed into crispy wonders straight from the freezer—no thawing necessary.
The pièce de résistance is the integrated digital temperature probe, ensuring your culinary creations reach the exact level of doneness you desire, while the Brio stands guard against any possibility of overcooking or undercooking.
Yet, the Brio Air Fryer isn't solely about the cooking process. With 100 preset menus and 50 customizable memory slots, it caters to the entire spectrum of chefs—from those taking their first culinary steps to seasoned kitchen veterans. It's not just an air fryer; it's a companion that evolves with your cooking journey.
Why Should You Buy This Airfryer?
Brio offers you the commitment to excellence with its Linear Thermal Technology. And this makes it stand out from others. When you have Brio, it's like having a vigilant chef in your kitchen. It'll ensure your set temperature remains unwavering. And there is no room for mishaps.
No taste digester, yet 75% fewer calories
Effortless use with precision temperature control
Easy to read LED screen to know the inside
32 inches cable will easily reach the kitchen socket
Some users complain about sudden heat-stopping
5. Elite Gourmet EAF1121 Air Fryer - Best For Personal Use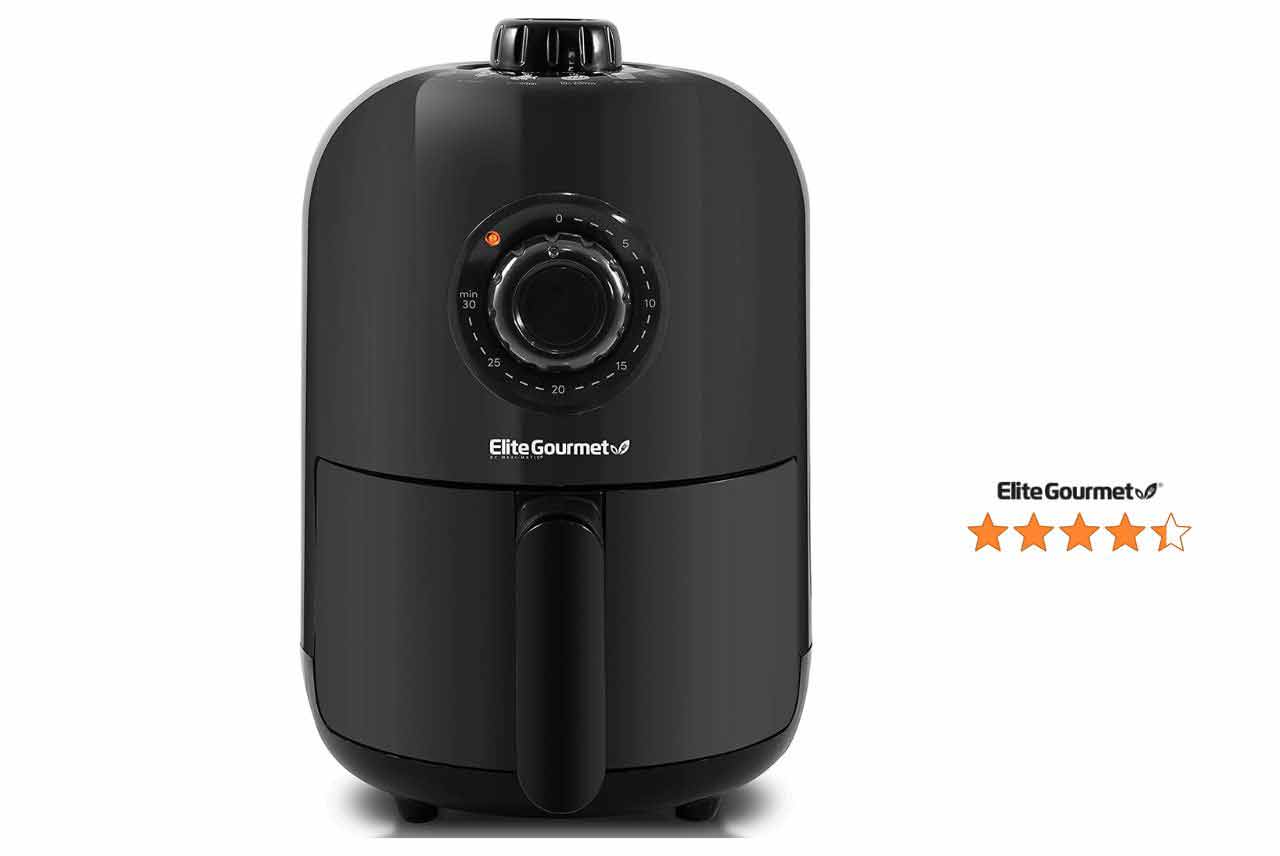 For students venturing solo into the culinary world, or for those seeking a trusty aide for their gastronomic solo adventures, the Elite Gourmet personal air fryer emerges as a potential countertop confidant.
Compactness is at the heart of this culinary wonder. With a 1.1-quart capacity, it's designed not to usurp your oven, but to complement it, becoming an invaluable asset for crafting single-serve wonders—banishing the all-too-common plight of excessive leftovers and the ensuing dilemma of their disposal.
For the deep-fried devotees who wince at the calorie ledger, this device is a game-changer. Elite Gourmet has engineered a way to deliver that coveted crispy exterior without immersing your food in a vat of oil.
Lacking inspiration? The included booklet of 26 recipes is a portal to expanding your gastronomic repertoire, guiding you beyond the basics and into the realm of culinary creativity.
Despite its diminutive stature, the Elite Gourmet doesn't skimp on versatility. It stands ready to bake, grill, and roast, challenging the traditional bounds of compact kitchen appliances. The adjustable dials endow you with the autonomy of a culinary conductor, fine-tuning your dishes to perfection.
Handling this appliance is a breeze, too, thanks to a cool-touch handle that bids farewell to the dreaded post-cooking juggle. And when the feast concludes, the clean-up is a minor epilogue—a swift wipe and you're set for the next round of culinary exploration.
Why Should You Buy This Airfryer?
The Elite Gourmet stands out in the vast sea of kitchen gadgets. It's not because of the biggest or the flashiest. It's because it understands the joy of your meal; when you love, how you love, and how much you love. You have to pick this to cheer for many solo gourmet adventures ahead.
Perfect for your single-serving meals with 0.75-lb food per batch
Healthy and delicious food with 85% less oil
Versatile to cook veggies, fish filets, chicken & wings
Save energy by reducing monthly bills
Don't worth even for 2-3 servings
The Energy-Efficient Air Fryer Buying Guide
You're not just chasing crispy treats, yet you're hunting for energy gems, right? Let's discuss the features you must consider when choosing your energy-efficient air fryer.
Size and Capacity
Not always "the bigger, the better." Think of the ideal size that matches your household's needs because larger fryers often consume more power. And air frying efficiency means cooking in one go, not too many batches.
Power Consumption
Wattage is the key to an energy-efficient air fryer. So first, check the wattage following how it uses the power that counts. However, lower wattage with faster cooking will be the sweet spot for energy efficiency.
Cooking Technology
It's the heart of any fryer to ensure energy efficiency. It would help if you prioritized rapid and 360° air circulation as it offers equal, even, and quick cooking. The trick is an air fryer that heats up fast will reduce energy wastage.
Features and Controls
Simplicity is the rule of features and control. If you don't know, digital displays might look sleek to you. But it can consume more energy when the manual dials can be straightforward and energy-conservative.
But you have to buy what meets your needs. Whatever you choose, have an auto shut-off feature because it saves energy and avoids overcooking.
Build Quality
Quality materials retain energy and change the game, working as the silent energy guardian. So, look at the air fryer-making materials. Choose a metal body air fryer, which often retains heat better than plastic. And the well-sealed fryer minimizes heat loss, boosting energy efficiency.
Safety Features
Safety and energy saving should be your dual purpose, as both are important. Auto shut-off saves energy and ensures safety. And the cool-touch exteriors offer better heat retention inside.
Cleanup and Maintenance
Don't you want post-cooking efficiency? Of course. So, choose the dishwasher-safe parts to ensure less energy on cleanup. And the non-stick interiors reduce your scrubbing time and water usage.
An air fryer isn't just about crispy fries. It's all about maintaining a balance between performance and energy consumption.
So, before landing an air fryer, consider the kind to your palate and the planet.
And considering all those, we've reviewed the 5 best energy-efficient air fryers. You can confidently choose one from the list that fits you.
Whatever you pick, you'll be the winner with energy efficiency.
Frequently Asked Questions
Air fryers are versatile. You may ask what you can't cook with them. You can cook french fries, chicken wings, fish, steak, shrimp, salmon, broccoli & cauliflower, brussels sprouts, roasted nuts, popcorn, pizza, sandwiches, and many more dishes with an air fryer.
Undoubtedly, air fryers are versatile. But  they're not suitable for everything. Wet batters, rice and pasta, raw produce with high water content, and foods that need to be boiled aren't typically recommended for air frying.
Yes, optimal cleaning of an air fryer sometimes ensures faster cooking times. Because over time, cleaning can contribute to energy savings.
You May Also Like to Know