If you are a passionate home cook or a professional chef, a kitchen is a place where you will spend most of your time.  One of the common things you will have in the kitchen is a kitchen faucet. You will definitely want to install a dynamic kitchen faucet that looks attractive. But, there are so many other products out there that sometimes as a customer you may not know which product you should buy. Hence, in your mind,  you will have the most difficult question-"Which faucet should I really buy?". This article will help you to decide on the product you should buy. In order to do that, we will give 7 best kitchen faucet reviews and kitchen faucet buying guide.
Let's look at a comparison chart
| Product | Finishing | Material | Flow Rate | Holes | Price | |
| --- | --- | --- | --- | --- | --- | --- |
| | Arctic Stainless | Brass | 1.8 GPM | 3 | $$ | On Amazon |
| | Brushed Nickel | Stainless Steel | Good | 1 | $$ | On Amazon |
| | Vibrant Stainless | Metal | 1.8 GPM | 3 or 4 | $$$$ | On Amazon |
| | PVD Spot-Free Brushed Nickel | Heavy-Duty 304 Stainless Steel | 2 GPM | 1 | $$ | On Amazon |
| | Brushed Nickel | Brass (Main Body) | Manual | 1 | $ | On Amazon |
| | Matte Black | Brass | 1.8 GPM | 3 | $$$ | On Amazon |
| | Brushed Nickel | Metal | 2.2 GPM | 1 | $ | On Amazon |
To help you out to buy the perfect kitchen faucet we are gonna give reviews of some of the best products out there. Here are best seven kitchen faucet reviews :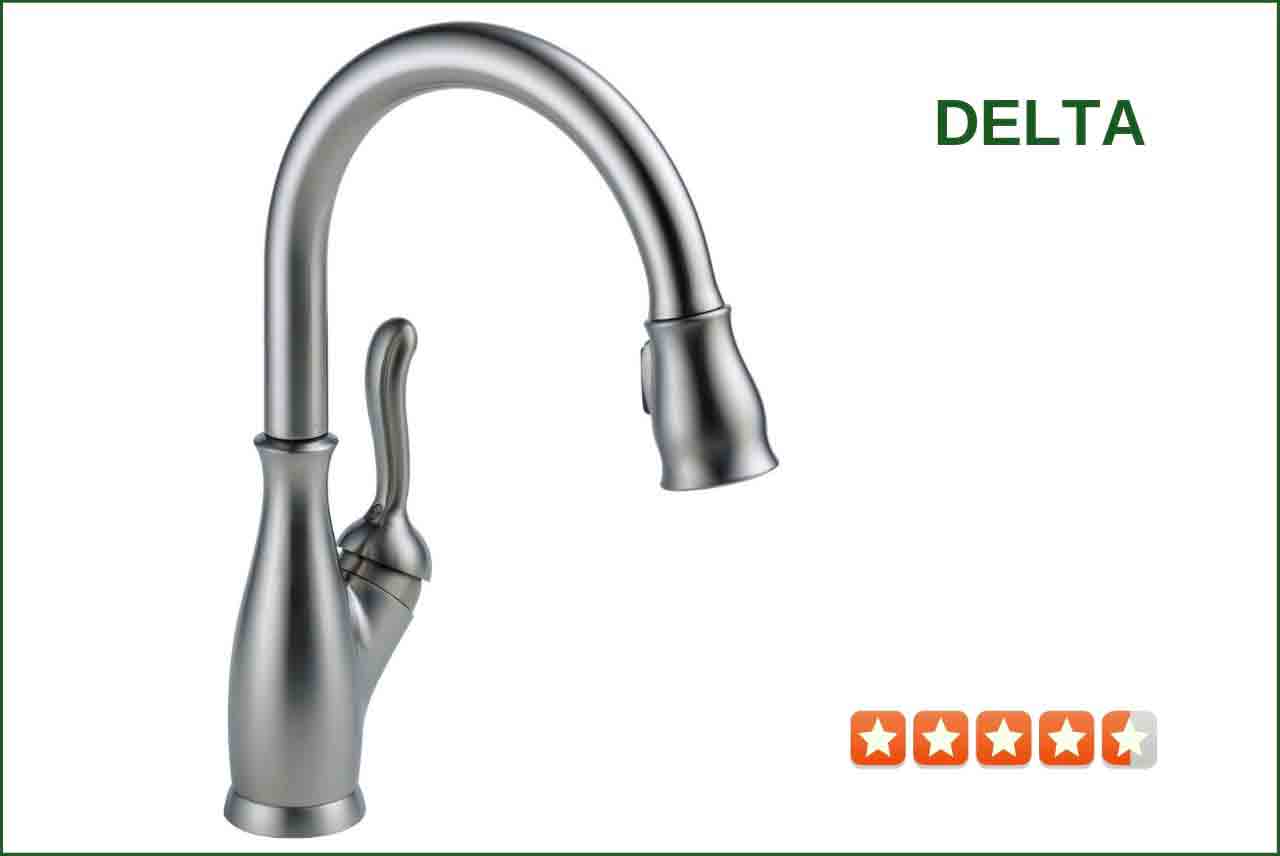 Delta(a company which was founded in 1954) is one of the most trusted companies you will ever find. For many years, the company has been producing products for both bathroom and kitchen. Keeping up with the modern technology, the company has produced Delta Faucet 9178-AR-DST Leland Single Handle Pull-Down Kitchen Faucet. Made in USA, Stylish, cutting edge and convenient- these words can perfectly describe this product.
Technology- We already know some of these features like, "Touch-Clean spray holes", "MagnaTite Docking system", "Diamond Seal Technology". The awesome "Delta DIAMOND Seal" technology uses a tough, diamond-coated valve to put an end to leaks and the faucet lasts for a very long time. One of the great things about the spray wand is that it features MagnaTite Docking. It means that it will stay docked when you are not using it. So unlike other pull-downs that tend to droop over time, MagnaTite keeps your pull-down faucet looking picture perfect. An integrated magnet makes sure that the wand stays docked when you don't use it. Over time it will protect your faucet against drooping which is a common issue with pull-down faucets.
Installation– But let's not also forget about its "Duramount mounting system"(for easy installation). Duramount mounting system makes it very easy to install and "Innoflex PEX one-piece supply lines"(to get rid of leaks). The faucet also includes "InnoFlex PEX supply lines". It keeps water inside the faucet out of contact with metal contaminants. Furthermore, let's not also forget that the one-piece construction of InnoFlex PEX waterways removes joints and seals. So, you can pretty much guess that leakage will never bother you if you buy this faucet. But it's not over yet.
Lifetime limited warranty will make sure that the company will not get away with bad products. This is the commitment of a good brand and this is the reason why you should trust this kind of brand. They will do everything to give you quality products.
Related Article: How to Replace Delta Kitchen Faucet Sprayer Hose – Ultimate Guide
By now, after reading about previous products, you already know about the technology Delta uses. So, you are pretty much aware of the advantages that this product brings. But just for the record let's see the benefits of the product-
1 or 3-Hole Installation(optional deck plate is included.)

It will last for a long time and the water pressure is good.

Mineral build-up can be removed easily just by a touch of a finger.

With "diamond seal technology" the faucet will give you an awesome performance.

You will also have your good old lifetime limited warranty from Delta.

Pull down spray wand and also a twenty-inch flexible hose reach. Washing and cleaning is super easy with this faucet

Like most of the Delta faucets, it also has a good flow rate(1.8 gallons per minute).  So your pots will be filled in a timely manner.
No escutcheon included. You have to buy it separately. So, in order to do that, you definitely have to spend some extra money. In a perfect world, you would want to have a faucet with an escutcheon.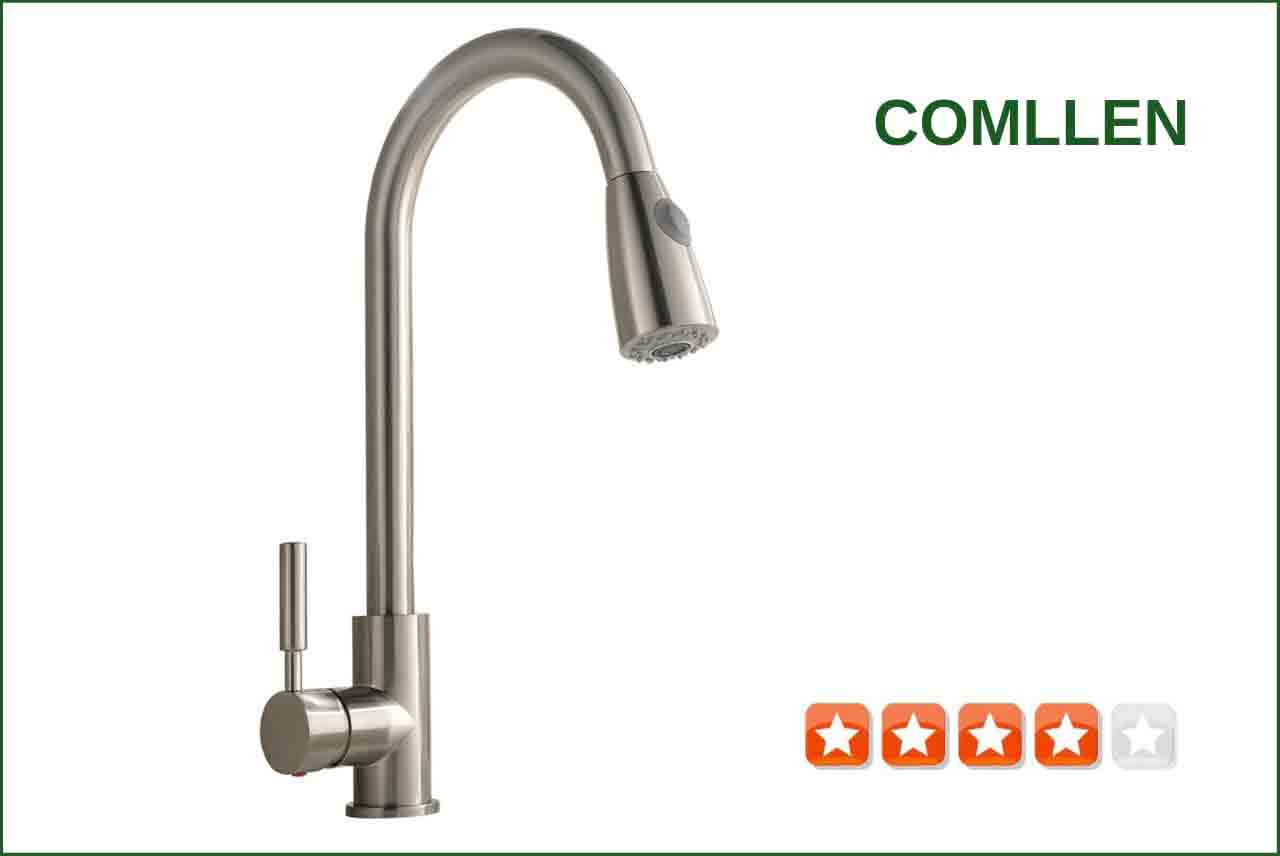 This is another kitchen faucet that you will love. The price is cheap (or rather affordable) for its quality and product like this is ideal for a customer. Because most of the time people want to buy a top-notch product and also affordable at the same time. It is cheap for its quality and more often than not, you will be satisfied with it.
Material & Finishes- It's a six-pound product and the company has used the best materials to produce it. Stainless steel makes the product very durable. Furthermore, it resists tarnish and corrosion from daily use which means your gonna have a product that will last for a very long time and it will give you the performance you want.Its brushed nickel finish makes it durable and also helps the faucet to resist tarnish.
Installation– From easy installation to high arc spout, it has everything to make your life in the kitchen comfortable. Sometimes installing faucets can be a real pain in the neck. Well, this faucet will save you the trouble. It is very easy to install and this is actually one of the special features of the product, providing you the comfort you deserve. Leakage won't be an issue with this faucet. For any customer, leakage is a nightmare. It's irritating and annoying in every sense. But this faucet saves you from that and gives you a "leakage free" life you deserve as a good citizen.
The Lifetime warranty guarantees the replacement of the product and also guarantees a quality service. You can buy this faucet without hesitation.
Furthermore, pull-down spray wand and the smooth water flow will give you the utmost satisfaction.
For some people say that it may not be as stylish as some of the other faucets. But it depends on your taste. You may actually like it the way it is.
Related Article: How To Unclog A Garbage Disposal Clogged With Potato Peels?
Now let's see the pros and cons of the product-
It will provide smooth water flow. The flow rate is perfect for you and you will love it.
The Aerator of the faucet is awesome. So the flow of water is better and it prevents splashing.
The spout gives you access to the entire sink as it can swivel
The pull-down spray is not magnetic which can be an issue over time.
Water pressure may not be as good as some of the other faucets on the market.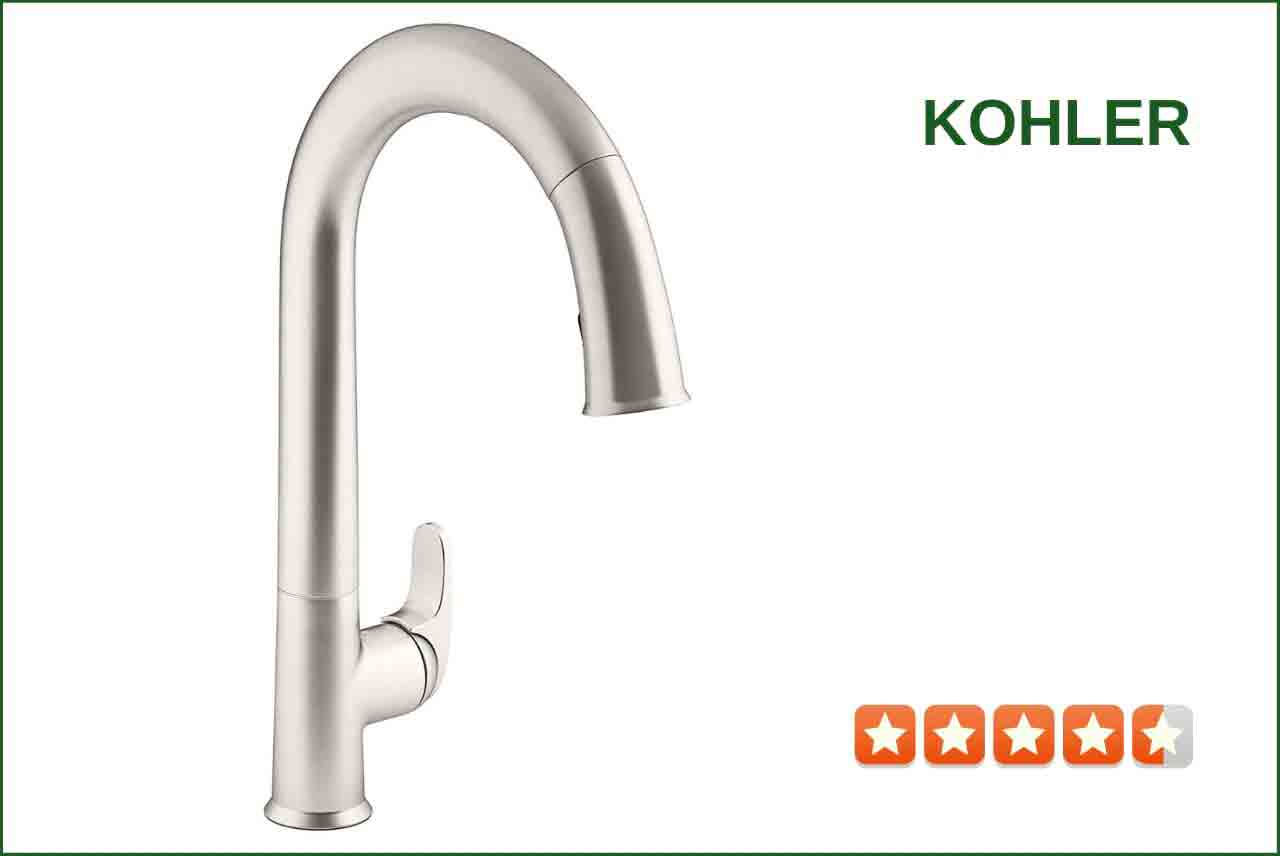 In 1873 Kohler was founded by an Austrian immigrant whose name was John Michael Kohler. From a very humble beginning, this company has become a humongous company that has been producing quality products for the common people. It has been producing some of the best touchless kitchen faucets for some time now. KOHLER K-72218-VS Sensate Touchless Kitchen Faucet is surely one of those kitchen faucets which can be a candidate to be the best touchless kitchen faucet. It is a nifty product which will be really helpful in the kitchen.
The Response technology of this product is amazing. It will respond to your movement. The awesome state-of-art sensor will respond in 20 milliseconds which is crazy. All you have to do is to wave your hand through the sensor window and you can turn it on. Do it again to turn it off. You can change the temperature of the water if you want to. You just have to adjust the handle while you use the faucet. Once you get used to it, it will be impossible for you to live without it. When you work in the kitchen, your hands tend to get messy. You don't even have to touch the faucet with your messy hand in order to turn it on and off. KOHLER is designed in such a way that it will keep you comfortable in the kitchen. It will reduce the threat of contamination. Thus, the environment of the kitchen will be good.
This is just the beginning. You will be amazed when you hear about its functionality. It features DockNetik. It's a magnetic docking system and it will securely keep the spraywand in place. The sprayhead has two modes- spray and stream. This is one of the reasons why the faucet is so dynamic. Plus, the swiveling ball joint will make sure a smooth and comfortable operation.
A top-notch product has to be durable. This faucet from Kohler is as durable as it gets. It definitely lasts longer than the average touchless kitchen faucets.
The faucet is available in four finishes-vibrant stainless, polished chrome, polished chrome with black accents, and vibrant stainless with black accents
It is an 8.3-pound faucet which is made of top quality steel.
Furthermore, the water flow is ideal. The flow rate is 1.8 GMP(Gallons Per Minute) which is not too bad.
All in all, You will be satisfied with this product. The kitchen is a very important place for a cook. If you have the right product to help you out, your time in the kitchen will be comfortable. This faucet is definitely the right product. This is the reason why we can consider it as the best touchless kitchen faucet.
Related Article: How to Remove Aerator from Moen Kitchen Faucet? Unearth the Best Tricks!
Without wasting any more time we are going to look at its pros and cons-
The 68-inch hose will give you awesome maneuverability and your everyday tasks will be easier. The hose will easily return to its original position.
Because of the lifetime warranty, you can buy the product with confidence and the service is just amazing. You will absolutely love it.
This faucet has the ability to resist fingerprints and water spots because of its "spot resist stainless finish". So, you don't really have to waste your time by cleaning it.
Power clean spray technology gives you more spray power compare to other faucets.
For secure docking of the spray head, it is equipped with the "reflex system".
The flow rate is 1.5 gallons per minute. It could have been slightly better.
The faucet is not really for all the people because the price is on the higher side.
Magnetic docking technology
A powerful integrated magnetic kitchen sink faucet takes your spray stick in place and protects it there. Pull out kitchen faucet with no possibilities of drooping because of its magnetic docking.
Stainless steel kitchen faucet with patent protection:
The stainless steel kitchen faucet has an elegant presence & innovate function made by   our original designer Magnum Opus. The unique art aesthetic look will greatly help in enhancing the decor as well as functionality of your kitchen. Moreover its original patented protection makes your ordinary kitchen to an extraordinarily functional beauty.
Amazing Pull-out Technology:
Pull out kitchen faucet with 3 setting sprayers (Stream / Spray / Blade Swipe) with flow rate approximately 2GPM. Blade Sweep a powerful high-pressure piece of sweeping water which completely swipe your dishes, clean the leftover food stick to the dishes & sweep the wastage to sink drain. No need to scrub again by hand.
Perfect utilization of your money:
This is the best pull down kitchen faucet with heavy duty SUS 304 stainless steel construction, high quality ceramic cartridge has passed the 500,000-cycle test to ensure its durability at least 10 years; NFS standard Zinc alloy metal covers 10.0µm multi-layer brush nickel with a high temperature & pressure resistant 20 inches PEX hose. One moew thing is its nano components which prevent fingerprints and stains. Compared to these benefits, the prices are relatively affordable and attractive.
Easy installation system:
The brush nickel stainless steel single handle pull down kitchen faucet has a very easy installation method, which only takes 20 minutes to complete the DIY installation, with only 6-easy-to-install without involving any plumbers.
Best rated kitchen faucet by customer:
Customers are very satisfied using this kitchen faucet. They mention it as the best touchless kitchen faucet for its magical design with 5-layer deep galvanized metal finish, innovative multi-functionalities, handy installation system & affordable price.
100% money back guarantee within 90 days:
APPASO offers a 90-day full money back guarantee absolutely risk free, as well as a 5-year warranty period for its products and parts.
Related Article: Pull-Down VS Pull-Out Kitchen Faucets
let's see this product's pros and cons:
Integrated magnetic docking that helps relieve drooping..
The unique art aesthetic look.
High-pressure piece of sweeping water.
Covering the deck plate contains 1 or 3 holes.
No need to re-scrub.
Affordable price.
Patented Design
Easy to install.
It works best with hot

water

Please check the switch that controlling stream and spray mode.
The joint connector has a plastic chip that can leak water if not properly connected.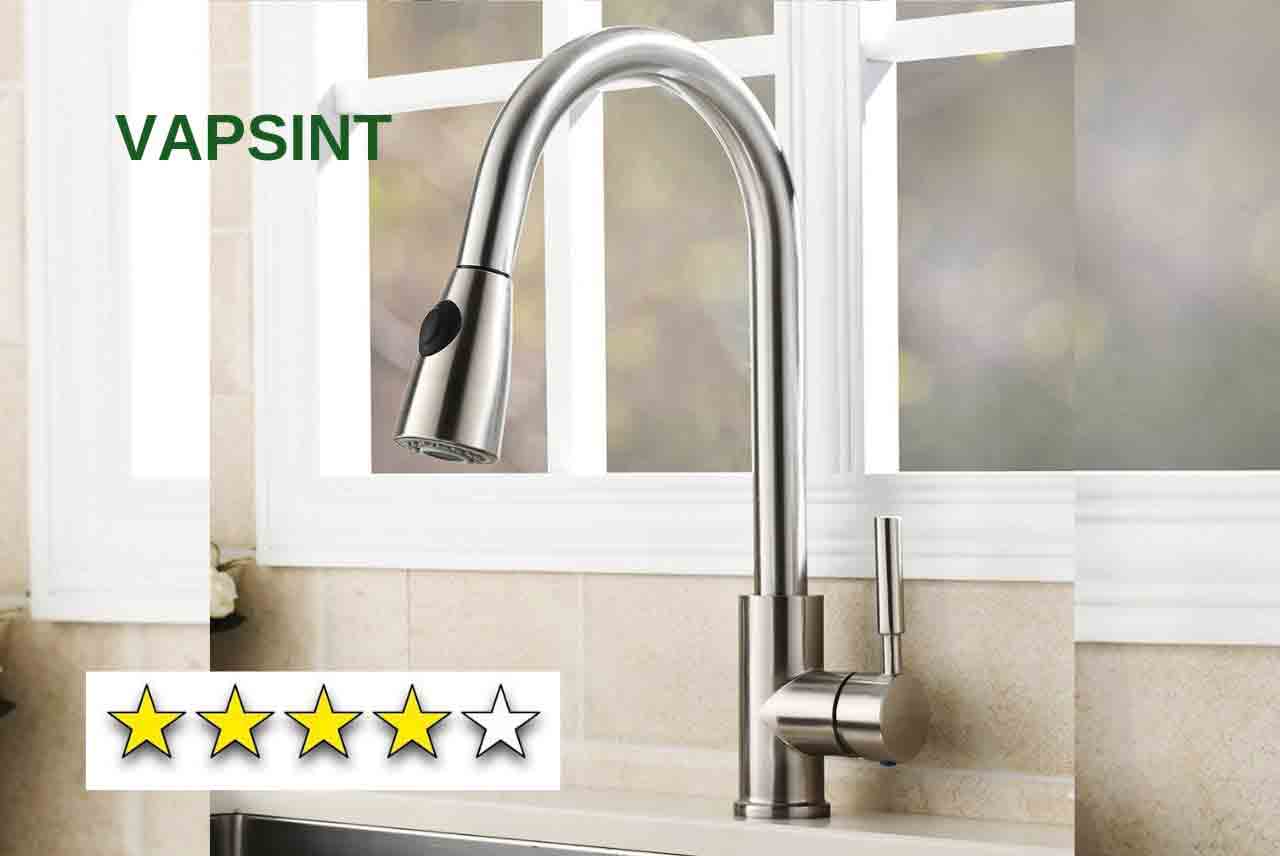 When we started writing kitchen faucet reviews and finding for Best Rated Kitchen Faucets this one drawn the attention mostly. Its user-friendly functionality, appearance, comfort operation and installation make it practically effective.
Exactly what we needed in a faucet VAPSINT Modern Single and Hole Handle Stainless Steel Pull Out Spray is such a one.  it is a breeze to fit with clear directions and looks so fancy!
Stylish and Sophisticated Design- You will find a unit that Having a 1 1/4″ stem making revolving round strong and easy with a long sturdy handle. Effective to option front access.  Flatwater choice. Base lock and neckline have a plastic guide for a hose. preventing the rubbing wear when pulling or recurring sprayer. Adjustable appearance, smooth function can make you relief from stress. A hose is not exceedingly long to tangle. You will get on it a Silicone supplied pad rim and insert to the bottom plate, which has a stem projection for firm surface contact. for supported base plate install.
Built-in Drip Free Ceramic Disc Cartridge- For Smooth and Long durable Operation it is built in effective ceramic disc cartridge. Ceramic disc technology is the answer to these problems. All that is needed to turn a tap off is a quarter turn and the water flow will stop straight away with a ceramic shower or disc tap. The researcher said that Ceramic regulator is carbon or stainless steel body which is used to protect the ceramic trim from being damaged, Generally, Sudden thermal or mechanical shock. In fact, Using ceramic valve ensures durability and shinning cleanness.
Two Function Sprayer- It is an admired hot and cold-water faucet built-in hi-arc Gooseneck pull-down spray on heavy duty curved spring for aerated powerful spray. VAPSINT is a useful modern kitchen accessory that practically works well. Finished with brushed nickel steel, it the spin top is stylish, long durable, functional. Its handle is user-friendly flick model. VAPSINT is reasonable and single hole mounting and fits 1/2-inch and 3/8-inch water supply systems.
Quality and stylish- we have to find out one that will perform as our expectation. Its water pressure is immense and the switch from stream to spray is simple to apply. The nice elegant design makes it gorgeous and very much adjustable to your kitchen.  It has a hefty feel to them – the handle feels very well-built. They do what you would look forward to them to do. VAPSINT elevated standard manufacture, excellent feature guaranteed.
Related Article: Kitchen Faucet Buying Guide
let's see this faucets pros and cons:
Built-in dual function pull out sprayers
Easy, smooth, functional and effective
Very much convenient For daily use
The backing nut was a little difficult to install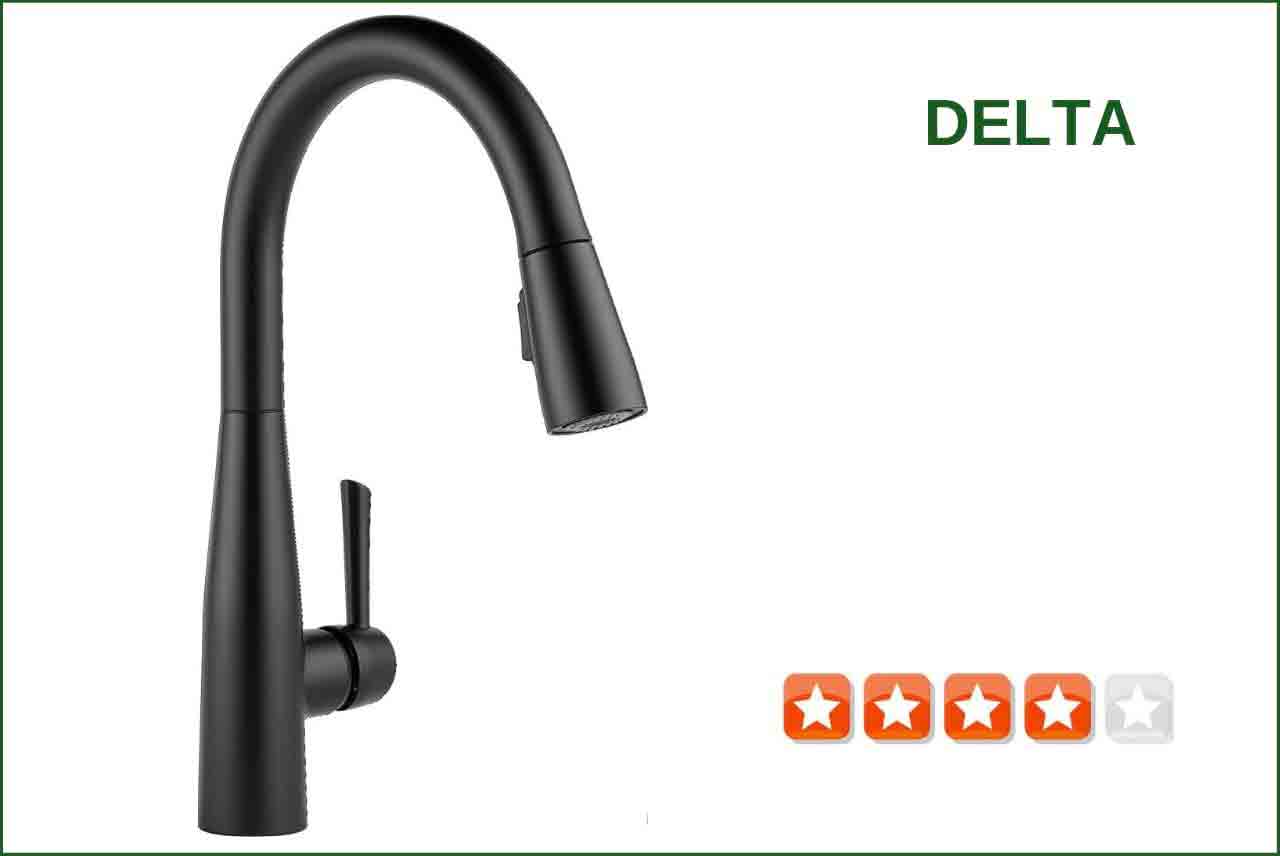 Another beautiful faucet from Delta that can live up to your expectations. Simple but stylish- this is the perfect way to describe this beautiful product. This faucet will give you the experience that you will never forget. Like any other product from Delta, this faucet is packed with some of the most amazing features.
Technology– This single handle pull-down kitchen faucet can easily compete with other top quality faucets. It's really amazing how a little thing can have so many features like "MagnaTite Docking" or "DIAMOND Seal Technology" or even "Touch-Clean Spray Holes". MagnaTite Docking system uses a powerful integrated magnet to keep the spray wand in place. So, rest assured that it will stay docked (when not in use).
Functionality– With "Diamond Seal Technology" the product will give you an awesome performance. The products are less hassle to install and last for a very long time. Its Mineral build-up is easy to remove because of the touch-clean spray holes. The soft rubber spray holes will make it ridiculously easy to remove calcium and lime build-up. With just a touch of a finger, the mineral build-up will be easily removed. Its flow rate is 1.8 GPM( Gallons Per Minute) which means that pots will be filled pretty quickly. Whether you are a chef or a homecook, this is the perfect flow rate for everyone.
The faucet also includes "InnoFlex PEX supply lines" which keeps this product out of contact with metal contaminants and one-piece construction of InnoFlex PEX waterways removes joints and seals. If you do not want the water to be contaminated, then "one-piece construction of InnoFlex PEX waterways" will come to your rescue. Hence, there won't be any leakage. So you don't really have to worry whether it will last for a long time or not. You can rely on this product and it won't let you down. The sweetest thing about the whole thing is that it is backed up by a lifetime limited warranty. So, no matter who you are or what you need, it will give everything you need.
Related Article: How To Connect Two Faucet Supply Lines Together?
Let's take a look at the pros and cons that the product has-
The absolute best thing about the faucet is that it can be installed easily.
It fits into one or three-hole sink.
Its lifetime limited warranty makes sure that your product will be replaced (if needed)
For complete sink access, you will have a high-arch spout which swivels 360 Degree.
The spray wand allows you to switch from spray to stream. So, you have the luxury to do whatever you want. Just choose your option.
Although the product is good, the price can be an issue. For some people, it can be a bit too expensive. So, it can be a bit difficult to buy this. This is the only downside to this product.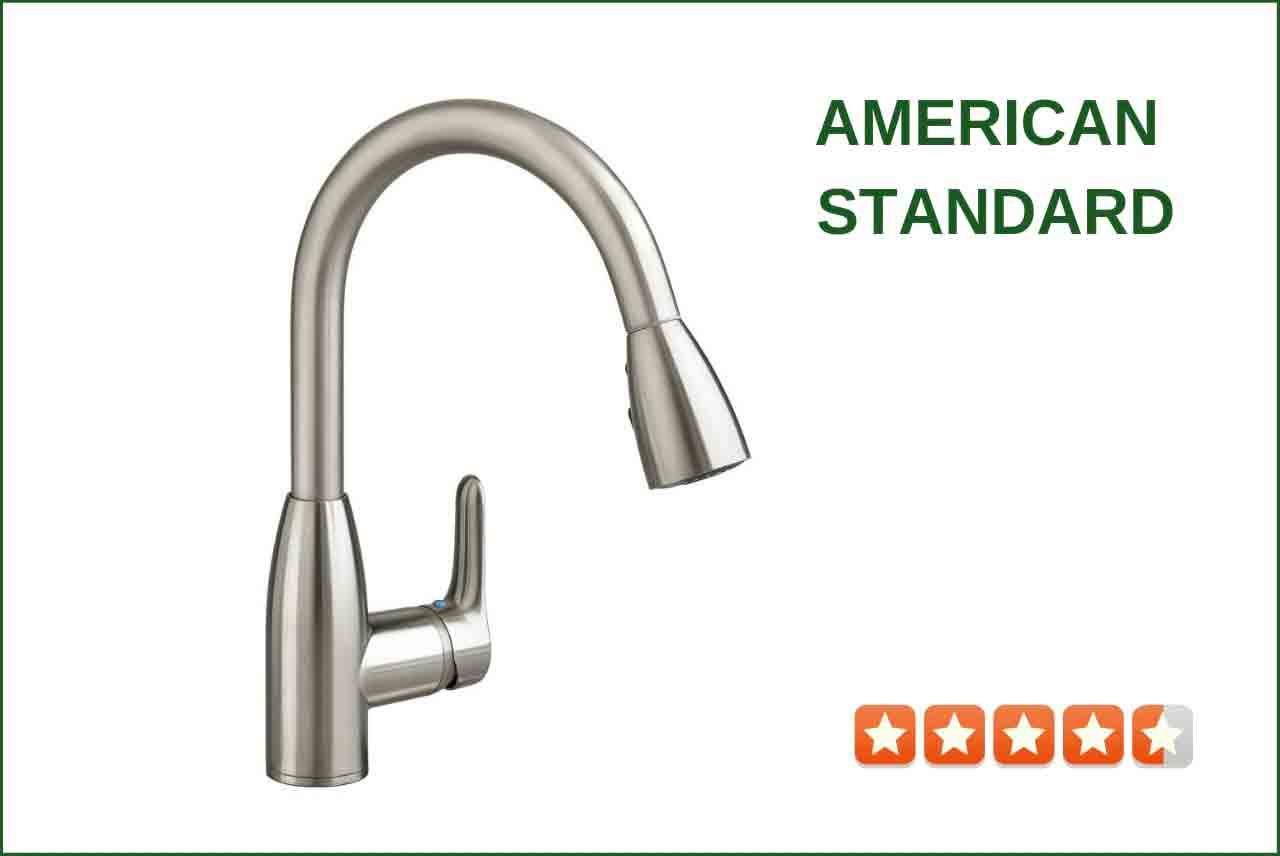 Who doesn't wish to look a good faucet? It's a human nature. The care for kitchen accessories makes it more glow and bring a new look to our beautiful kitchen. Everyone who's seen the new faucet has appreciated it. It will easily draw the attention of its elegant appearance that can bring the kitchen renovation. you can consider it as the centerpiece of a professional's kitchen sink. The likely properties of self-assurance also formulate it a perfect material for applying colors and finishes.
Let's see what's in the Box-One American Standard Colony Soft, 1-handle high-arc kitchen faucet with brass swivel spout.
Integrated Sprayer- it has a ceramic disc valve to ensure a lifetime of drip-free performance. If you asked what exactly formulate a high-quality faucet? According to Dmitri Kara, of the tradesmen at Fantastic Handyman (London), recommends only purchasing faucets with ceramic disc valves to prevent leaks.
Drip-Free Performance- it has a ceramic disc valve to ensure a lifetime of drip-free performance. The ceramic disc valve remains your faucet maintenance free and supplies soft handle control, even in excessive temperatures or hard water conditions. The valve is tested to resist over one million on/off cycles without failure, making sure old stories of a leaky faucet is a reflection of the past.
Safety-It meets the NSF Standard 61/Section 9 and Prop 65 lead requirements set forth by the government. It also has an Americans with Disability Act (ADA) permitted to handle and memory place valve.
The memory position valve consent you to quickly turn on and off the faucet without disturbing about accidently varying the temperature. Its Spout Height 14-5/8" (372mm) with 8″ (203mm) with consent. It can be increased with or without supplied escutcheon. The handle Can assembly be mounted/installed to the front, right left or center.
Related Article: How to Clean Kitchen Faucet?
Let's take a look at the pros and cons that the product has-
Functions Smoothly and Attractive Design
Easy To Install and Cleaning process
Effective Sturdy Materials, adjustable spray pattern, pause feature and Brass swivel spout
Some design flaws in the head.
Kitchen faucet buying guide
Some considerations before buying :
Before buying any product, you need to see whether its functional and easy to use. A kitchen faucet is no different. You need to consider some basic facts before buying a kitchen faucet.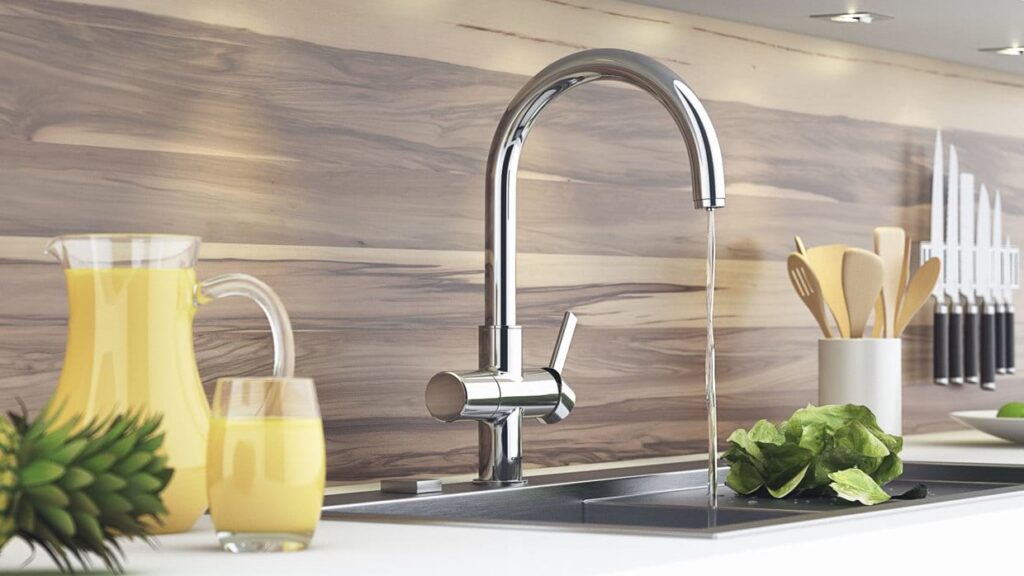 1. Your budget:

Firstly and most importantly, you got to fix your budget. Some faucets will cost 20-30$(plastic faucets), others will cost 50-120$.  If your budget is around 150-300$,  you will see some of the most amazing faucets. A lot of these faucets are made of metals and they are equipped with modern technology that will help you enormously. So fix your budget and then buy the faucet.
2. Warranty:
Secondly, try to buy a kitchen faucet that has a warranty. So, if you buy a product which is not convenient and does not fulfill your expectations, you can replace it. A warranty guarantees that the company or the brand, from which you have bought the product, won't get away with a bad product.
3. Installation:
Make sure that the faucet is easy and simple to install. That's a feature a kitchen faucet got to have. If it's not installed properly, then in the future you will have problems with it.
4. Know about your faucet:
Before buying a faucet, ask yourself this question- "What kind of faucet do I really need?" You may want a normal faucet or a pull-down faucet or maybe you want a modern faucet with touch technology. In the end, you have to know what you really want and your faucet should have the features that you need.
5. Pick a faucet which is long-lasting:
Whether your faucet is cheap or expensive, make sure it is durable. Don't buy something just because it's cheap and has a lot of features. If it doesn't work after two weeks, eventually your money will be wasted and you are gonna end up buying another faucet. You definitely don't want that.
6. Always go for a well-known brand:
Buying any product from good brands may cost you bit more money. But they have the reputation to produce quality products. More often than not, good brands will give you good products because they always put their reputation on the line and most of the times these products come with a warranty.
7. Buy faucets with aerators:
It's better if you buy faucets with aerators. Aerators mix up water and air. So the flow of water is better and it prevents splashing.
8. Filtration system:
It is always better if your faucet has a good filtration system. It is important for your health and if you have children at your house, then having a filtration in your faucet becomes necessary to keep the kids healthy.
9. Take proper measurements of your faucet:
You should check whether your faucet can have the access to the entire sink. You should have a spout that can swivel 360 degrees. Also, check the height of the spout and whether it is too high or too short. If it is too high, then it will cause splashing which is a problem and if it is too short, then some of the pots may not fit perfectly.
10. Try to avoid chrome finishes:
 It's better to avoid chrome finishes. it's true that chrome finishes are cheap which can be very appealing to some customers. But, chrome is almost always painted plastic and these types of faucets tend to leak. Then again, It depends on your budget.
A kitchen is like the heart of your house. This is where you cook for your loved ones. So it should be beautiful and elegant. To make it beautiful you need a beautiful kitchen faucet that stands out. Buy a product that is attractive, elegant, durable. But above all, buy something that suits your needs.  At the end of the day if the product does not fulfill your needs, then it's not gonna be helpful at all.