Pull-down Kitchen Faucet
A pull-down faucet comes with a short sprayer that pulls down straightly into the sink. It helps to fall the water perfectly on the cleaning appliance. For this accurate water direction, people love this type of faucet.
The faucet is connected to an extendable tube and remains hanging. You can choose a pull-down kitchen faucet for an easy and convenient cleaning system.
Pros
Enjoy the wide variety of spraying which helps to work faster.
Choose a good model and get plenty of spray options.
Fits perfectly to the deep kitchen sink.
Perfect for filling bigger pans and pitchers.
Cons
Extra height of the spouts may decrease the water pressure.
Not a good choice for a small sink.
Pull-out Kitchen Faucet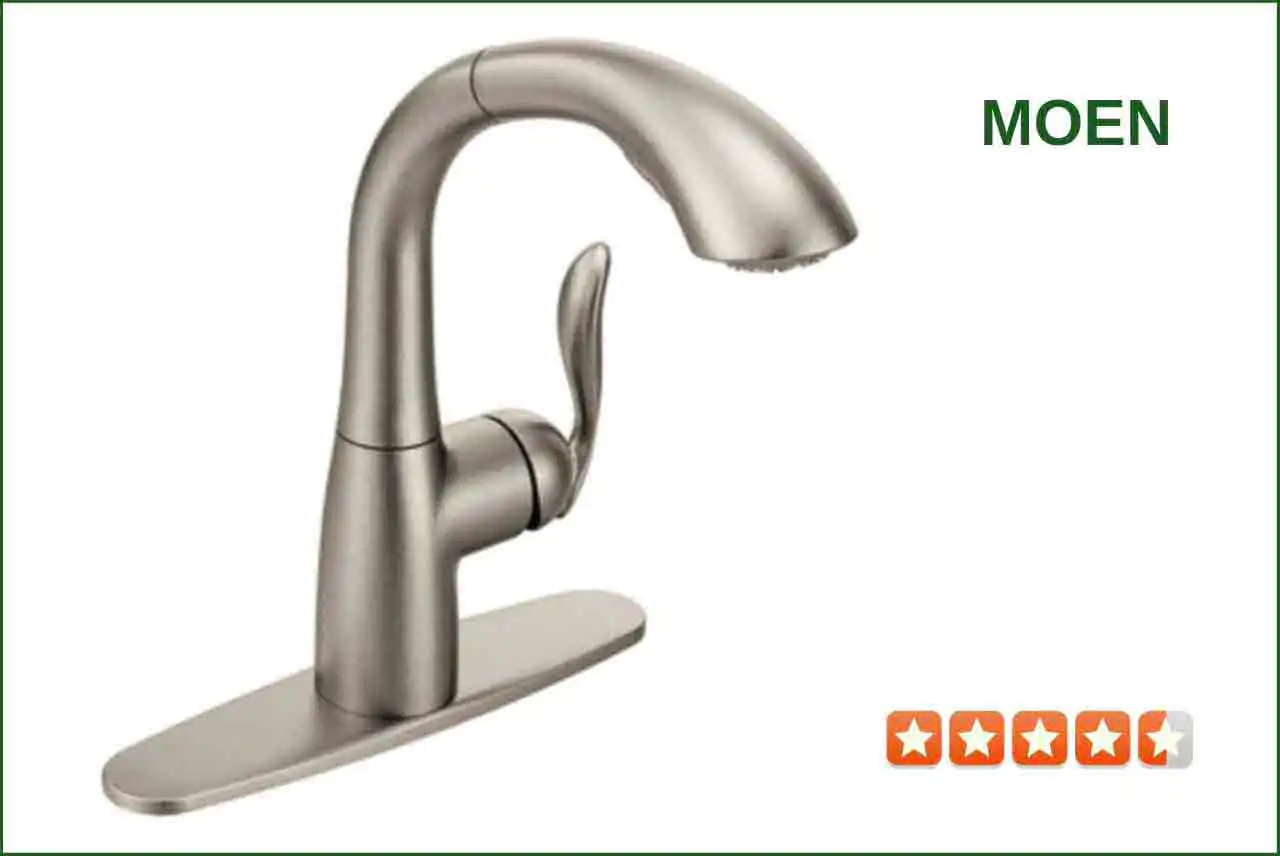 Pull-out kitchen faucet features a faucet sprayer pulls out towards you. It uses the handle pulling system instead of the head pulling system. It is best for small skinks. Though this type hasn't many designs, it ensures a wide range of motion.
Pros
Comes with shorter spouts, that is best for the smaller sinks.
Extendable handle doesn't allow to splash excessively.
Having a longer hose you can fill pots away from the sink.
Cons
Doesn't provide good gripping to the big handed people.
Not appropriate for larger sinks.
Doesn't come with good numbers of designs.
Similarities Between a Pull-down and Pull-out Kitchen Faucets
The main function of the above two types of faucets is the same. There are differences but there are also similarities. At first, I will show you the similarities.
Both of them are integrated with a high-pressure sprayer.
Both of their hoses are extendable.
Dissimilarities Between Pull-down and Pull-out Faucets
1. Spout size
Pull-down faucets are integrated with taller spouts. Pull-out faucets come with shorter spouts.
2.Adjustability
Pull-down faucets are appropriate for larger sinks. On the contrary, pull-out faucets are appropriate for the smaller sinks
3. Designs
You will find lots of design of pull-down faucets. Pull-out faucets have limited models.
4. Pulling system
For the pull-down faucets, you need to pull the head but pull-out faucets come with a handle pulling system.
5. Space consumption
Pull-down faucets require more space than the pull-out system.
6. Ease of use
Pull-down faucets let the water drop more accurately than pull-out faucets. So, cleaning and washing are easier with pull-down faucets.
7. Water splash
Pull-down faucets drop water from a higher place than pull-out faucets. So the chance of splashing is higher in the case of pull-down faucets.
Final Thought
The main purpose of the article is the show up the features, advantages, and disadvantages of pull-down and pull-out kitchen faucets.
If you look at the American, most of them use pull-down faucets. It is good for home use and easier. If your kitchen is small having small sink then pull-out faucets will be a better choice.
Check out the similarities and dissimilarities again. Hopefully, you will get the solution of your problem after reading the article.