Kitchen faucets & bathroom faucets might seem the same at first. They provide water for different tasks & one is used in the kitchen while the other in the bathroom. Is there anything else? There is, indeed. Trust me, there are a lot of things that differ between them from top to bottom.
So, what's the difference between a kitchen faucet and bathroom faucet? Well, the main difference between the two faucets is their sizes. While comparing size and arc, kitchen faucets are larger than bathroom faucets.
In this article, you will get a detailed comparison between 'Kitchen faucet vs Bathroom Faucet'. With my experience & from one whole day's research, I have covered everything you need to know about these two kinds of faucets.
So, give a read to this article, I assure you that it will be beneficial. Let's Jump In!
An In-depth Comparison: Kitchen Faucet vs Bathroom Faucet
| | | |
| --- | --- | --- |
| Topic | Kitchen Faucets | Bathroom Faucets |
| Size | Big  | Small |
| Varieties | More | Less |
| Arc Design | Big | Small |
| Stability & Utility | Low | High |
| Functionality | More | Less |
| Way of Installation | Easy  | Hard  |
| Supply Line | Bottom | Top |
| Shower Presence | Not always available | Available  |
Kitchen Faucet vs Bathroom Faucet - What's the Difference?
From the comparison chart I believe you have got a short idea. However, here's a detailed breakdown of the eight key differences between kitchen and bathroom faucets. I hope this will help you pick a winner.
Here's the main difference between the two. Because of having big sized center sets, kitchen faucets are usually bigger than the bathroom faucets. The center set of a bathroom faucet is usually 4 inches long. That is why they are not that large. 
Wondering what size the center set of a kitchen faucet is? It is double that of the previous one, which is 8-inch long. There's another reason as well. Kitchen faucets come with multiple other accessories, such as hand sprayers, soap dispensers etc.
These do not come along with bathroom faucets (not needed either). That is why kitchen faucets are bigger than bathroom faucets.
In terms of variety, kitchen faucets win the race. If you go to the market, you will find that kitchen faucets come with more styles & textures than bathroom faucets.
Why is that?
Because, in terms of kitchens, appearance and look matter more than bathrooms. And faucets are the center of attention in the kitchens.
That is why manufacturers produce kitchen faucets with a number of designs and features. On the other hand in the case of bathroom faucets, the number is quite limited.
If you want to increase the beauty of your kitchen, I will always recommend you to go for some commercial faucets. You can see details here about commercial kitchen faucet.
A faucet's arc design is to serve different kinds of tasks, not just increase its beauty. That is why it differs quite a lot between the two.
Bathroom faucet's arc is comparatively smaller than the kitchen ones.
Why do we use the bathroom faucets mostly for? To clean our hands & face. That is why the arc style is not so big. Many people try to put small dishes under it, but I highly recommend you not to do it.
On the other hand, in terms of kitchen, we use it for various kinds of purposes. We need to wash pots & plates off all sizes ( from tiny pots to the extra large ones) in it.
So the size has to be large to fit these kinds of cooking vessels. That is why the kitchen faucet's arc is generally bigger than bathroom faucets.
Bathroom faucets are more focused in respect of stability & utility than kitchen faucets. 
You already know that kitchen faucets focus more on looks & design. But bathroom faucets have an edge regarding durability.
In fact, they are made with solid materials which makes them more stable, powerful and durable. So they last for a long time as well.
You can already guess who's the winner. Yes, Kitchen Faucets!
The days are long gone when the only thing we could do with a faucet was push a button & water would come out in one direction. Now, we can do a lot of stuff with our faucets. Kitchen faucets come with a lot of specifications & features. They offer us flexible positions. What I like most about the kitchen faucet is the 360-degree position. It helps me a lot to do the dishes and saves my time.
Bathroom faucets do not have that.
I usually use a pull out faucet and it also helps me to control the water flow. Which is a big, big advantage compared to the bathroom ones. I love washing the dishes using it. There are some other features available in kitchen faucets such as the elbow outlet, pull down etc. Because of having all of these features in kitchen faucets, you can cover a wide space. It helps to get the job done as quickly as possible. You do not get these features in bathroom faucets.
There are some differences regarding the aerators as well. You can install other accessories in bathroom faucets because they usually have 3 to 4 inches threading. I installed a hose in mine once.
However, in kitchen faucets, manufacturers put decorative aerators. Keep in mind that you won't have to install other accessories in your kitchen faucets.
You can see here about the 7 Best Touchless Kitchen Faucet for an Effortless Kitchen Experience!

No one likes this part! The method of installation is a bit complicated and challenging for both of the faucets.
However, kitchen faucets take the lead in this one as well. The installation process for a kitchen faucet is quite challenging, but not like the other one. They can be easily mounted on the sink. Also as a matter of fact, it takes less time.
No one likes to install kitchen faucets on their own. But once I learned it, it seemed trouble-free to me, and I could quickly do it. I believe it will be the same for you and you can do it as well.
On the other hand, in terms of the size and especially construction, the installation process of bathroom faucets is comparatively harder.
In fact, it takes a lot of time even for a plumber. But still, have a look if you want to install it by yourself.
Many people do not know this, but there is a clear difference between the supply lines of both faucets.
Shocked? I was too when I first got to know about it. Here's everything about them.
Supply Line of Kitchen Faucet:
Present on the lower part & passes through the holes in the sink.
Clearly visible under the sink.
Helps in switching the water flow.
Supply Line of Bathroom Faucet:
Connected to the top portion of the faucet.
Supply lines are hidden under the wall. That's why they are not visible sometimes.
Made up of copper.
There are some kitchen faucet models that come with retractable watering can. However, many of us do not use it or actually we do not need to(Just like me!).
On the contrary, in case of bathrooms they are usually available in the bathtub mixers.
Can You Use a Kitchen Faucet in the Bathroom?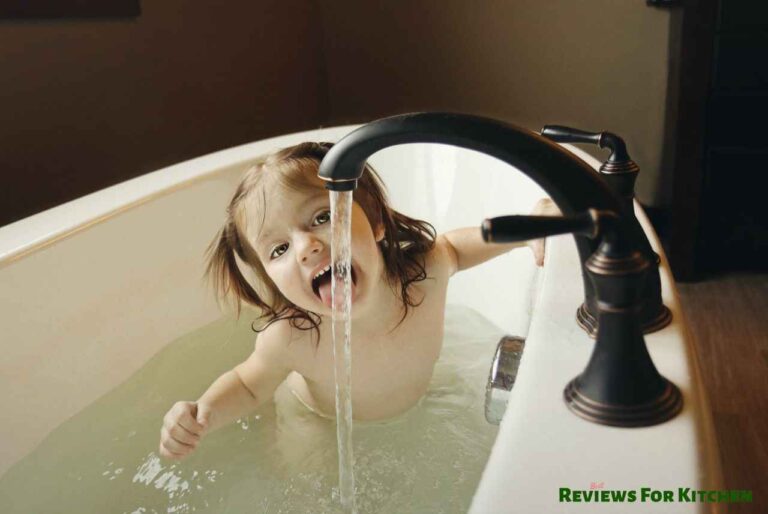 Some people like kitchen faucets more than the bathroom ones. They like it stylish, attractive & more functional. But is It Possible to Use a Kitchen Faucet in the Bathroom?
The answer you're looking for is Yes, you can. But it must match with the bathroom sink's design. So, if the design matches, then go for the installation without any hesitations. If it does not, I'm afraid you will need to change the entire sink or stay with the normal bathroom faucets.
However, I recommend you to use these two types of kitchen faucets for your bathroom:
Single-handled models that come with a small base. 
Double-handled models with flexible hoses(They should be able to connect the handles to the spout).
It actually depends solely on you. If you want, you can definitely find suitable kitchen faucets for your bathroom. But always get a proper idea about the faucet & bathroom sink before jumping into a decision.
Kitchen Faucet Vs Bathroom Faucet:- Which One Should You Choose?
When it comes to 'Bathroom Faucets vs Kitchen Faucets', there is no ultimate winner.  They are made to serve different tasks and they suit the best in two different places.
The bathroom faucet is perfect for your bathroom, but not for your kitchen. On the other hand, it is absolutely likewise for the kitchen faucets. 
We need both of them for various purposes. Kitchen faucets will continue to entice you if you want more functionality, good design, and good looks. Also, you get to do a lot of stuff with the new kitchen faucets. You can not fill pots or wash dishes properly with the bathroom faucets. For heavy duty work, it is absolutely perfect.
As bathroom faucets lack some of these things, it is mandatory that you choose kitchen faucets in your lovely kitchen. On the flip side, bathroom faucets have their very own purpose. We mostly use them to clean our hands & faces. Special features or  a lot of functionalities are actually not needed here.
These faucets are more durable and stable than kitchen ones. They will comparatively serve you for a longer time.  As they are made for the bathroom(usually in the corner of your room), many people do not care about the looks & design. That's why bathroom faucets get the job done in their own way.
In short, it depends on you. Have a look at your kitchen & bathroom, then think about what you'll be using them for. After taking all these things into consideration, make your decision.
This is it for the in-depth comparison of kitchen faucet vs bathroom faucet. 
What's the difference between kitchen and bathroom faucets? If you have come all the way down here, I hope you have got your answer. 
As I said in the first place, they differ from each other quite a lot, and they are made for different purposes. 
If you need to, then go through this guide again and make sure you have the right faucet in the right place. If you're still confused and can't come to a decision, you can always consult with a professional. 
One last thing before you head out, always remember to keep the kitchen and bathroom clean. 
You May Also Need These Tips