While there are various ways of enjoying your meat, nothing can be compared with a perfectly grilled brisket. A well-smoked brisket can give you a rich and tender flavor that will linger in your mouth.
We have to admit that there are various ways to grill your brisket- especially when it comes to burning. Different temperatures bring out distinct tastes and enhance the flavor. There is debate among the PitMasters about the ideal temperature for smoking. Spoiler Alert- there are not any. It is all about how you like it.
Here we will discuss smoking brisket at 250 vs 225 degrees Fahrenheit. You can understand the specific properties of smoking at different temperatures. Also, you will be able to determine which temperature is suitable for your preference. So let's skip any further ado and dive into it.
Why Should You Choose smoking brisket at 225?
Smoking your brisket at a moderately low temperature is a safe choice for beginners. You would not want to burn your meat or make it too dry. Here are some reasons you will choose 225 degrees Fahrenheit as your smoking temperature.
225 is perfect for the beginning temperature.
It is easy to handle and control the temperature.
The cooking process is comparatively slower.
It needs less fuel than other higher temperatures.
The temperature is better for keeping some of the fat unmelted.
So, to my dear amateurs, do not overact. Begin slow, and enjoy your smoking brisket.
Why Should You Choose smoking brisket at 250?
If you want to cook your meat faster and break down all the proteins and fats, cooking at 250 degrees Fahrenheit is most suitable. The main benefits of smoking your brisket at 250 are stated below.
The meat takes less time to be cooked.
The fats completely melt, making the Barbeque juicier.
It brings out the flavor of the meat.
250 degrees Fahrenheit is the perfect temperature to cook the meat at a consistent temperature.
So, if you are in a hurry, you should try out 250 degree Fahrenheit.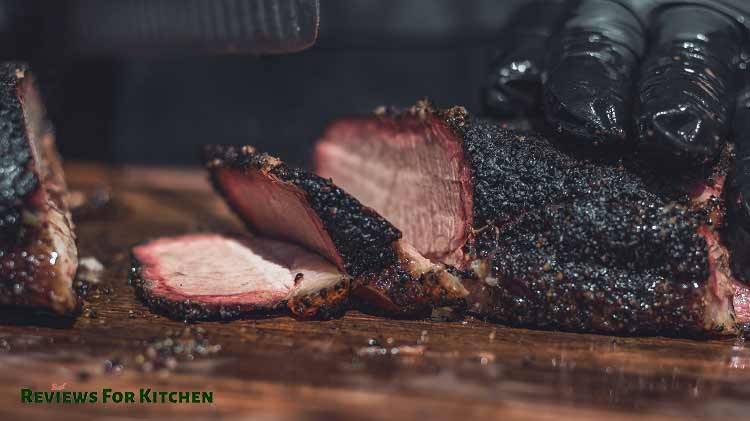 Key Features Of Smoking Brisket At 250
Before deciding at which temperature you want to cook your brisket, you need to know its key features and benefits. Here are the functionalities of smoking your brisket at 250.
It can give you the perfect tender texture and juicy flavor
It needs more fuel than 225 degrees
Creates a seasoned fat layer on the surface of your steak
Requires less smoking time
It breaks down all the connective tissues and proteins completely
Some Good Things About Smoking Brisket At 250
If you love a super soft and juicy steak, then 250 degrees is a perfect temperature for smoking your brisket. This temperature will break down all the connective tissues and proteins of your meat and give a mouth-melting texture to your meat.
To maintain 250 degrees, you will need more fuel than 225 degrees. But the extra fuel is worth the effort as it reduces the cooking time and cooks your meat thoroughly.
At 250 degrees, the soft fat of your brisket will melt entirely and create a seasoned fat layer around your steak. This melted fat will create a smooth and juicy flavor that will linger in your mouth after your meal.
Some Bad Things About Smoking Brisket At 250
As you already know, cooking the brisket is one of the most challenging jobs. So when you are at it, you need to be patient and make the meat as tender as possible. Smoking the brisket at a lower temperature helps you get the desired tenderness and slowly melts the fat. But you always might not have all day to smoke your meat. In that situation, you need to smoke it at a higher temperature.
While smoking at 250 degrees Fahrenheit or higher, you might not get the soft and tender taste you can achieve by slowly cooking it at 225. Higher temperatures surely fasten the process, but it is too risky for beginners to control the heat and not burn the meat.
Key Features Of Smoking Brisket At 225
225 degrees is a suitable temperature to start grilling your meat. Here are some characteristics of smoking brisket at 225.
It needs less fuel than 250 degrees
Cooks the brisket moderately
It takes more time to smoke the steak
Absorb more smoke than 250
Give a comparatively rough texture to the meat
Some Good Things About Smoking Brisket At 225
If you are new at grilling sturdy and dry meat, 225 degrees Fahrenheit is a good starting point. It is preferable to grill any meat. So, you do not need to worry about burning your steak.
At 225 degrees, you can start cooking your meat. It will take a while for the meat to be cooked properly. But if you like smoked flavor, it will give your meat enough time to absorb the smoke and give you your desired taste.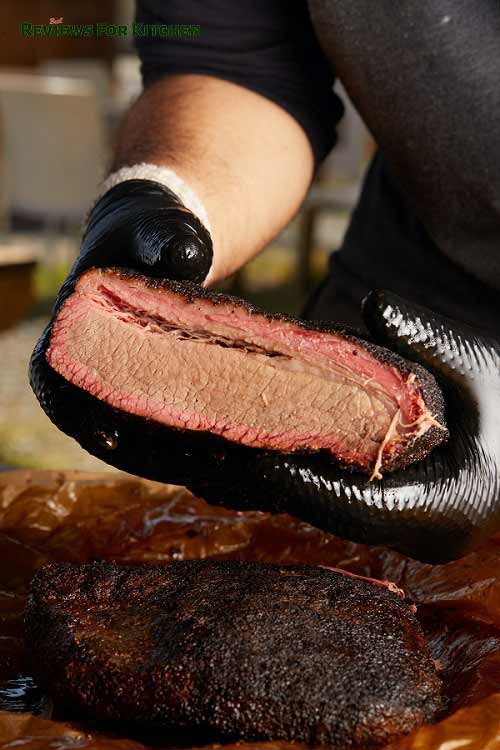 Maintaining 225 degrees needs less fuel than the higher temperatures, and it cooks the meat slowly. As a result, it takes more time for the brisket to be cooked properly. 225 degrees does not break down all the fat of the meat. So, it gives a coarser texture to your steak.
Some Bad Things About Smoking Brisket At 225
The major demerit of smoking your brisket at 225 degrees Fahrenheit is that it takes a lot of time. Brisket is quite tough and made of solid muscles. So it needs a lot of time to loosen up. Cooking it at 225 degrees Fahrenheit gives it enough time for that. But if you are unfamiliar with how long it can take to grill brisket, it might give you stress and you gradually lose confidence.
Smoking 10 pounds of brisket at 225 can take roughly 7 to 8 hours or more. Waiting for this long time and observing the progress can be taunting for new cooks. If you want to start this work, you need to prepare yourself for that mentally.
Comparison Between Smoking Brisket At 250 And At 225
There are various similarities and dissimilarities between smoking brisket at 250 and 225 degrees Fahrenheit. In both cases, you will need to be patient and give your meat that time to be cooked properly. For 250 degrees, you will need less time than 225. You will need to prepare more fuel to provide the extra heat for 250 degrees Fahrenheit. But this extra fuel is worth it as it will reduce the cooking time.
As briskets are pretty firm, you will need time to cook them to be soft and delicious. But the time we have is limited. If you do not have time to let it be cooked slowly, you need to increase the temperature to speed up the process.
But controlling higher temperatures can be tricky. So, if you are not confident with your skill, it is better to keep the temperature low. You cannot check the condition of your meat every few minutes. It will release the heat and make the process even more time-consuming. So, understanding the state of the meat and having a good idea about the situation is necessary.
Which temperature is better for smoking depends on the tardiness of the meat. If the meat is more robust and of a larger amount, it will take more time and a higher temperature to be cooked properly.
The taste preference influences the temperature as well. You might like your steak to melt in your mouth as soon as you take a bite, but others might think chewing the piece for a while is more enjoyable. To bring out these two different types of taste, you must put different temperatures and times in cooking. The table below summarizes the above discussion.
FAQs About Smoking Brisket At 250 vs 225
Our Other Product Comparisons