You may be looking for the best meat grinder on the online kitchen tools sites, and the two names that mostly pop up in front of your eyes are Lem and Cabelas Meat grinder. But with their similar features and functionalities, you might need clarification on which one to choose. What's the difference between Lem vs Cabelas Meat Grinder?
The Lem and Cabelas meat grinder has superior performance and high-quality durability. Though they have some dissimilarities in the aspect of built material, grinding speed, weight, and the range of attachment and accessories both grinder offers.
 Here we'll discuss the Lem and Cabela meat grinder in detail, including their similarities, differences, and the best features they provide for you.
So let's begin.
Lem vs. Cabelas: Comparison Table
Differences

Lem Grinder

Cabelas Grinder

Weight

Less heavy

More heavy

Included Plates

2 plates for coarse and fine grinding, 1 stuffing plate

2 plates for coarse and fine grinding, 1 stuffing star

Grinding

Speed

Less fast

Faster

Head Of Grinder

Rifled Style head

Offset grinder head and deep cut augur design
What Is Lem Meat Grinder?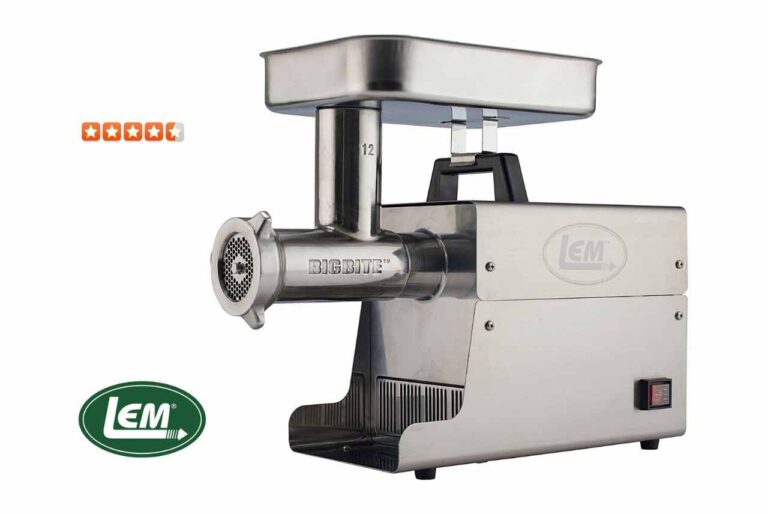 Lem meat grinder is a Lem Products and is considered one of the tops in the meat grinder industry. Most of its products are now made in China.
Lem Electric Meat Grinders come in five different sizes which are #5, #8, #12, #22, and #32 which provides 0.35 horsepower to 1.5 horsepower.
Comparison Table Of Model Features
| | | | |
| --- | --- | --- | --- |
| Size | Horsepower | Watts | Grinding Lbs Per Minute |
| #5 | 0.35 HP | 250 | 4 |
| #8 | 0.50 HP | 370 | 7 |
| #12 | 0.75 HP | 550 | 11 |
| #22 | 1.00 HP | 755 | 13 |
| #32 | 1.50 HP | 1100 | 17 |
All the Lem meat grinders offer standards accessories, including the followings:
1 Stainless Steel Knife
1 Stainless Steel Meat Pan
1 Stainless Steel Coarse Plate 3/8″ (10mm)
1 Stainless Steel Fine Plate 3/16″ (4.5mm)
1 Stainless Steel Stuffing Plate
3 Stuffing Tubes
1 Meat Stomper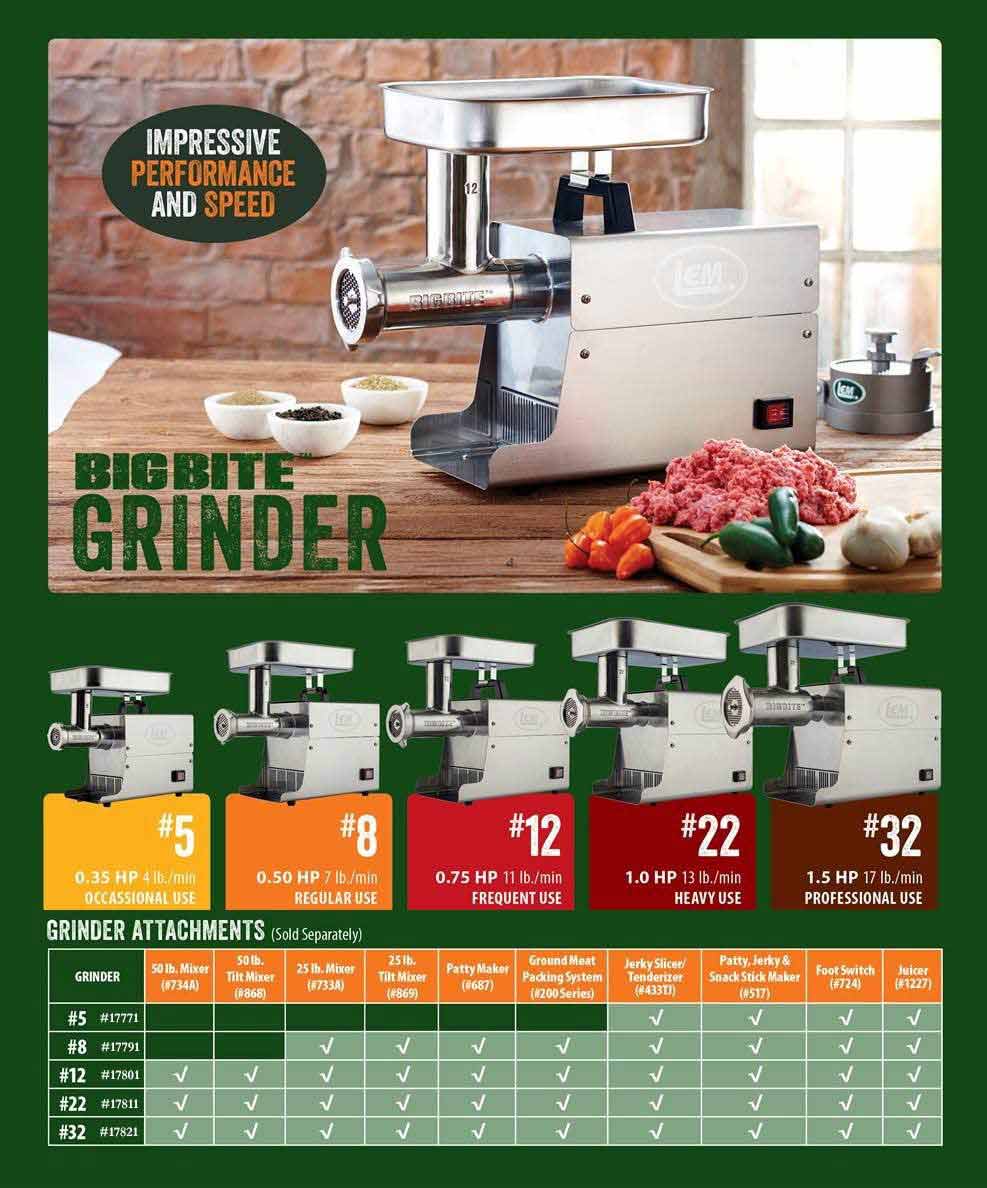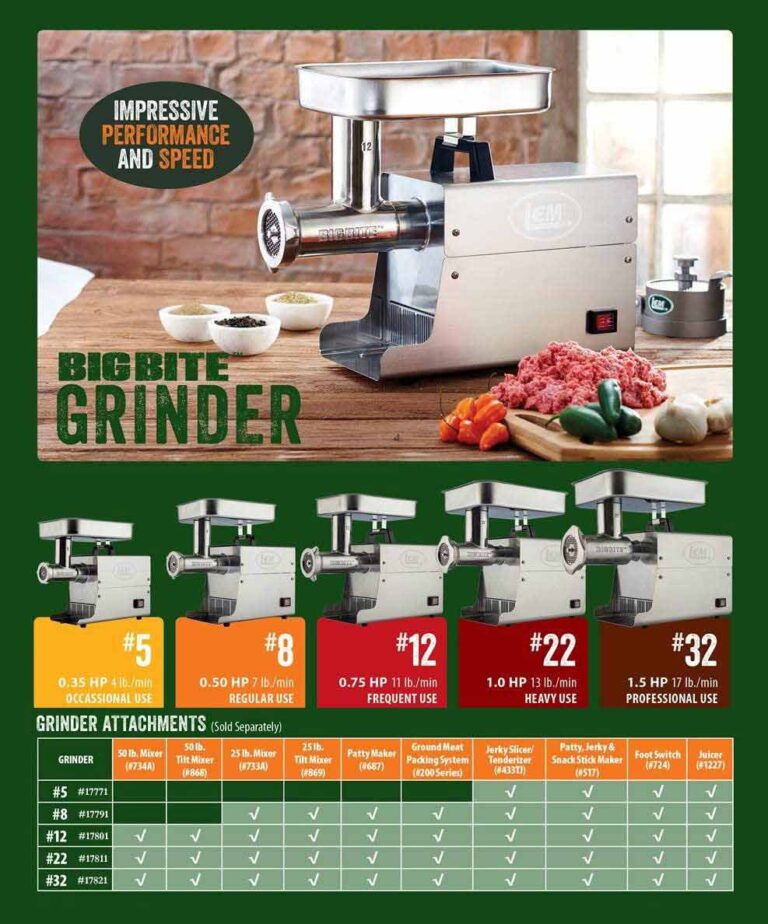 Best Features Of Lem Meat Grinders
Lem meat grinder has many features and technologies to provide the best user experience. Here are some of them.
Class Leading Motors
According to the customer's review of the Lem grinder, it offers professional grinding each time. Its powerful motors can grind up to 17 lbs of meat per minute with its  #32  size grinder model.
Big Bite Technology
The incredible thing about Lem grinder is it comes with a big bite technology. This technology includes an innovative design for the grinder. Its advanced technology and precision engineering make the grinder easy to use and efficient in performance.
The big bite technology also ensures no clogging or bogging down while grinding a large amount of meat, which gives you a faster and easier grinding experience.
The Big Bite Augur grabs more meat and pushes the meat through the augur. So it provides 30-50% faster than a standard bite augur.
Stainless Steel Components
Lem grinders come with more than a stainless steel outer body. It also features a stainless steel headstock, grinding plates, feed screws, meat trays, blades, and cabinets, which make the grinder more robust and durable.
Grinding Meat In One Time
With a Lem grinder double-edged knife and two grinder plates, you can grind the meat in a single pass, which is the advantage of a Lem meat grinder. That means you can grind meat faster and achieve a consistent result every time.
Noise Dampening Design
The improved grease formulation of the Lem meat grinder reduces motor noise. So despite its high-powered motor, the grinder still keeps quiet during the operation.
Expensive
Lem meat grinders come with a pricey tag that can only match some people's budgets. But it will be worth investing if you want a long-term performance and service life.
No Reverse Functionality
Lem meat grinder doesn't have any reverse functionality but it outfitters the Big Bite technology that helps to prevent clogging in the grinder head.
What Is a Cabela Meat Grinder?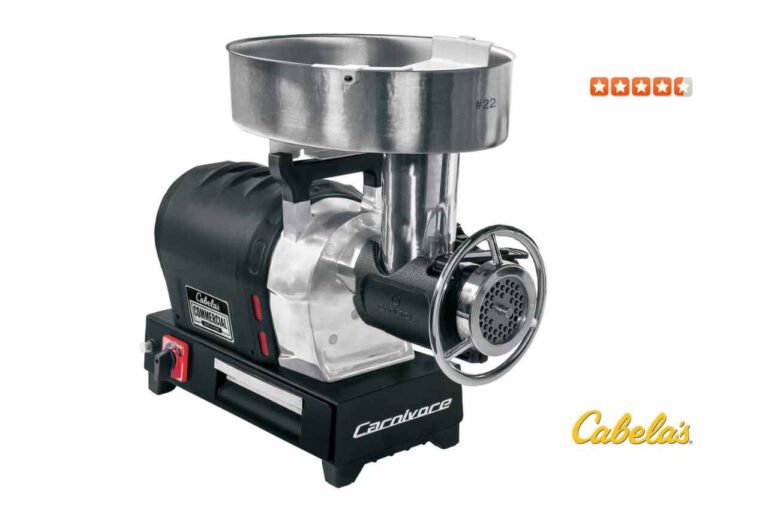 The other top-quality competitor of the Lem is the Cabela Meat grinder. Richard N. Cabela founded it in 1961. At present, all Cabela's meat grinders are manufactured in the United States.
It has 5 models with #8, #12, #22, #32, and #42, which incorporates 0.75 Horsepower to 1.75 horsepower. Here is a comparison table for the Cabelas meat grinder model features.
Comparison Table Of Model Features
| | | | | |
| --- | --- | --- | --- | --- |
| Size | Horsepower | Watts | Grinding LBS Per Minute | Tray Capacity |
| #8 | 0.5HP | 370 | 4-7 | 142 cu in. |
| #12 | 0.75HP | 550 | 8-10 | 203 cu in. |
| #22 | 1.00HP | 750 | 11-13 | 343 cu in. |
| #32 | 1.50HP | 1125 | 14-18 | 424 cu in. |
| #42 | 1.75HP | 1320 | 19-23 | 590 cu in. |
The Cabelas meat grinder comes with the following accessories in every model.
1 Stainless steel knife
1 coarse grinding plate (10mm)
1 fine grinding plate (4.5mm)
2-piece snack stick funnel
3 sausage-stuffing funnels
1 meat stomper
1 stuffing star
Best Features Of Cabelas Meat Grinder
Here are the top features of the Cabelas meat grinder.
Engineered Motor Airflow
Cabelas meat grinder features engineered motor airflow. It has a ribbed motor cover and high output air-cooled fan, which keeps the grinder cool by reducing the heat in the grinding area.
Cool-Tek Gel Ice Pak
Another incredible feature is an improved Cool-Tek Gel Ice Pak around the grinding head that keeps the meat cold inside the grinder to resist the meat sticking and binding due to heat.
Heat Sink Technology
Cabelas meat grinder features a heat sink Technology on the bottom of the cool-Tek Pak that is used to pull heat from the grinder head and dissipate the heat through aluminum fins. So the grinding head works smoothly and stays cool during use.
Heavy Duty Main Gear
On top, mostly the feature you'll love in Cabela is its hardened, heavy-duty steel main gear and drive gear tucked in permanent lubricated gear housing. This gear ensures the power will transfer smoothly to the grinder's auger.
Nice Design
Cabelas meat grinder comes with a sleek and stylish design. It has a great color combination of silver and black, silver and greenish which is adorable for crazy black lovers. Also, it boasts a rounded curve and a unique vintage charm that draws anyone's attention easily. It's not only a grinder, and it contributes to a beautiful decoration in your kitchen.
Commercial-Style Grinder-Head Ring Nut
Commercial-style grinder head ring nuts help to remove the grinder plate, blade, and auger easily. The patented auger-pull-handle tool allows easy removal of the auger, so you can easily clean up the tools.
Ease To Use
Even if you're using the grinder for the first time, Cabelas's two buttons and a handful of simple accessories can help you to operate the equipment without a headache. You can use its full potential in no time.
Plastic Components
Though the main body part of the Cabelas meat grinder is made of stainless steel, some inner components are built with plastic. So in some cases, these fragile components (especially the gears) can get damaged, stuck, or even sometimes completely broken.
No Fine Grinding Plate
The plates it offers with the grinder only let you choose between coarse and medium. So you won't find a good grinding option (approximately 3 mm). So if you're the one who usually loves to make recipes with super soft, fine-grinded meat, this can be a drawback.
What's The Difference Between Lem and Cabelas Meat Grinder?
The main difference between Lem vs. Cabelas meat grinders is their build material. Lem Grinders are completely made from stainless steel, whereas Cabela's grinder outer body is made of Stainless steel, but some of its major components are made of plastic.
On the other hand, Lem offers a wide range of accessories and accessories compared to Cabelas.
There are different aspects of the Lem and Cabelas Meat Grinder. Here are they-
If you live in a small space where you can't permanently set up the grinder and need to move the grinder often, then the grinder's weight must be worth considering.
Lem grinders are typically lighter in weight compared to Cabela's grinders. So you will find it a little easy to move.
Though Cabelas grinders come with a bit more weight than Lem grinder, thankfully, it has an onsite carry handle to haul them around.
Meat Grinding Ability Per Minute
The more meat your grinder can grind per minute, the fast you can finish grinding.
0.50HP Lem grinder can grind 7 lbs boneless meat per minute, which means 420 lbs per hour. So the faster you can put the meat into the Lem grinder, the faster it will give you the more grinding meat.
On the other hand, a Cabelas grinder can grind about 4-7 lbs of meat per minute. On the other hand, Cabelas's 1.75 HP grinder can grind 19-23 lbs of meat per minute.
Meat grinder often faces a common problem; clogging within a few moments of grinding. So you must want a function in your grinder to get rid of the jam or clog easily.
Lem meat grinder comes with a big bite technology that helps to prevent clogging.
Otherwise, the Cabelas meat grinder comes with a reverse switch that reverses the motor so it can clear up any jams or clogs.
Similarities Of Lem And Cabelas Meat Grinder
Despite the dissimilarities, the Lem and Cabelas grinders are popular for their high performance and quality. Here are some of the similarities between the grinder.
High Performing Motors
The Lem and Cabelas come with a high-performing motor with 370 watts. That means both deliver better performance and a fast grinding experience.
Durability
Both grinders come with heavy weight materials which ensures a robust build quality. They are highly durable in the long run with proper care and maintenance.
Accessories
Lem and Cabelas meat grinders include a super sharp knife, which allows you to cut through the toughest meat easily. No need to buy an extra knife for cutting the chunks of meat.
Storage Drawer
You'll also get a storage drawer in the Caleb as a Lem grinder. Lem's storage drawer is placed under the grinder head to keep the grinding plate and accessories. Otherwise, you'll get a handy side entry storage drawer in Cabela's.
Warranty
On top, the Cabela and Lem meat grinders offer a long period warranty of 5 years and also lifetime customer service.
Stainless Steel Housing
The main material of both the Cabela and Lem meat grinders is stainless steel. That means this metal is sturdy, durable, and easy to clean in less time.
Frequently Asked Questions
The higher your meat grinder's watts, the more power it will be delivered. So you will get faster speed for grinding time and an enhanced ability to work through tougher cuts of meat. For professional businesses, you'll want at least 1000 watts in your meat grinder.
Yes, it's best if you clean your meat grinder after every use because bacteria can grow in raw meat faster. So if you leave the grinder uncleaned, bacteria and mold can start accumulating and spread into the food items when you'll grind something next time.
What To Choose Between Lem vs Cabelas Meat Grinder
There is no definitive answer on whether Lem vs. Cabelas is the winner, as it depends on personal preferences. So ultimately, it's up to you which feature you need most, and you give priorities.
If you're a busy person and seek a grinder that's easy to clean, then you may prefer Lem over Cabelas because all of its parts are made of stainless steel, which is easier to clean.
Otherwise, Cabela's grinder will do it best if you prefer a powerful motor that can grind more meat at once.
Besides, if you're looking for an affordable grinder, pick Cabela's, as it is typically more affordable than Lem grinders. Though investing in Lem will be worth the decision if you want more attachments and accessories.
You May Also Like​ To Know