As a BBQ pit, which one will you choose from Pitts and Spitts vs Yoder? If you haven't made up your mind yet, make some time to go through this article below. We have analyzed two of the most famous pellet smokers from both brands and prepared a head-to-head confrontation to let you make an informed buying decision.
Although both are world-famous grill manufacturers, like all other pellet pits, they too have their own amenities and drawbacks. Here we are with a direct comparison between Pitts and Spitts Maverick 1250 vs Yoder YS 640 to decide on the best pellet grill. So, let the battle begin!
Pitts and Spitts Brand Overview
In terms of producing the most reliable pellet pits, Pitts and Spitts is a legendary name in the industry. What drew our attention the most regarding this reputed brand is their versatile product lineups. Whether you need a wood pellet pit, charcoal grill, offset smoker or fire pit, you will get them under this single platform. Besides, any sort of combination pits or travel smokers enrich their lineups more.
All their products resemble quality, confidence, and excellence. Starting its journey back in 1983, it's a Texas-based company that has been manufacturing industry-standard grills and smokers for many years.
Their widespread product range takes care of all your smoking, grilling, barbecuing, and braising needs. Apart from the attractive features, all their smokers and grills are high-heat resistant. They can reach over 600 degrees of temperature.
Resultantly, they infuse amazing smoky smack into the food. Besides, all their products are quite easy to clean. And they are architectured with high-quality materials to last longer. With that being said, they have a wide array of smokers and grills from mid to high range.
One of the most popular products from this range is the Maverick 1250. Let's break down this pellet smoker below to check out its exclusive features.
Pitts and Spitts Maverick 1250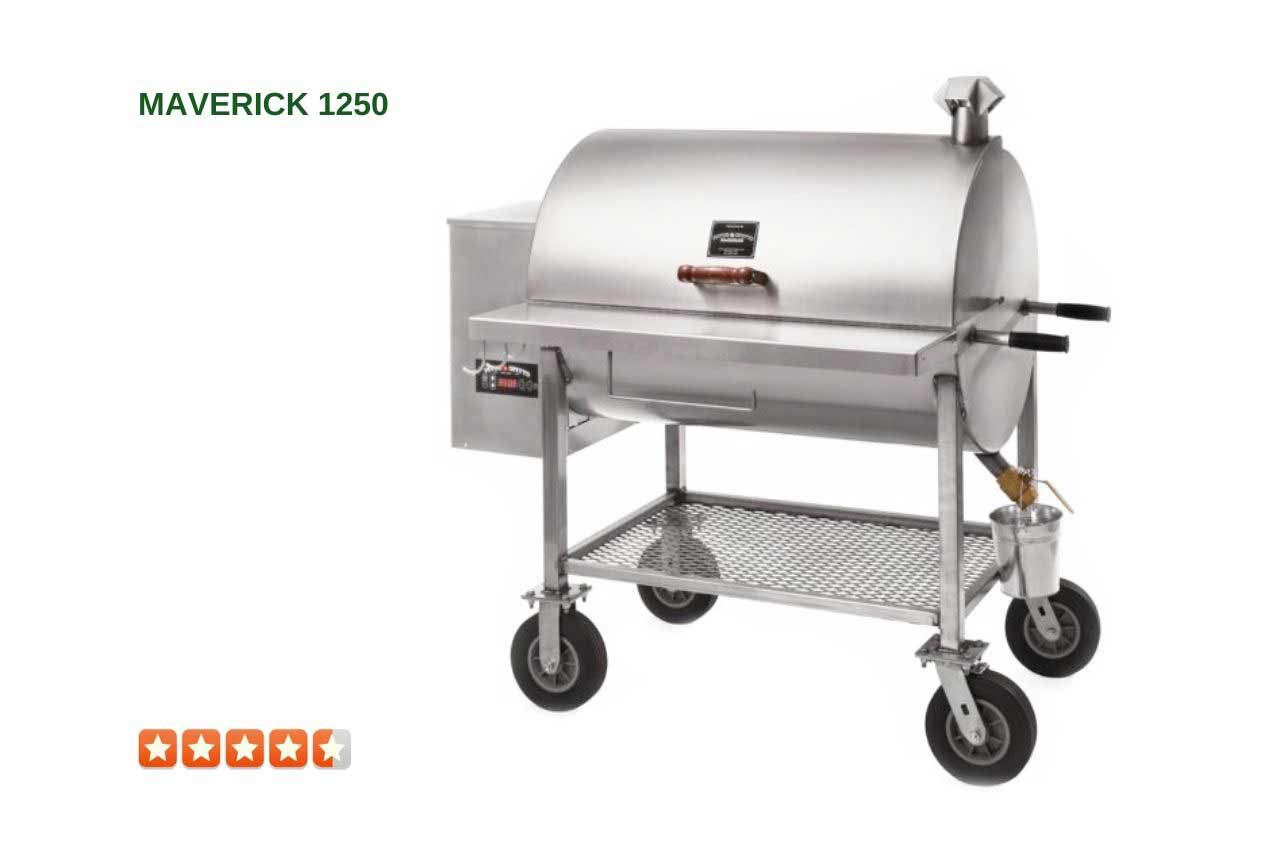 Needless to say, Pitts and Spitts Maverick 1250 is a famous mid-size model with incredible workmanship. Following the company's motto of making the "best looking, best cooking" smokers and grills, Maverick 1250 is a wonderful addition to their lineup. The key amenities are as follows-
Key Features
Heavy-duty carbon steel construction
Wi-fi capable
1250 square inches of cooking area
Features their signature 304 stainless steel lid and work surface
Durable cooking barrel made of 7 gauge steel
First of all, we have to admit that Maverick 1250 is one of the most well-made pellet grills of all time. It basically consists of a carbon steel cooking chamber. Are you more of a stainless steel grill user? Don't worry, there is a stainless steel model as well.
But that naturally costs a fortune whereas the carbon steel model is more than okay to last quite long. Keeping that aside, let's talk about the barrel made of 7 gauge steel. Being thicker than most other pellet grills on the market, it is designed with a better heat-holding capacity.
Therefore, it results in using less fuel while grilling your meal. With a total of 1250 square inches of grilling area, it's not that hard to be cleaned. Just a little bit of elbow grease will get the job done.
Moreover, there's a grease drain with a ball valve which offers precise airflow. And thanks to the digital PID controller, it provides superior temperature control that leads to a better burn. Being a wi-fi-controlled grilling accessory, it lets you control the gadget remotely with your cell phone. That surely adds a great plus to the overall performance of this awesome pellet grill from Pitts and Spitts.
Why Should You Buy It?
There are several reasons this pellet grill is popular and here are a few to mention-
Very solid packaging
User-friendly assembly
Low-maintenance pellet grill
Produces steady and consistent smoke
A round cooking chamber facilitates better heat and airflow
High heat retention
The 35-pound pellet hopper allows a super long cook
Why Should You Avoid It?
However, there are a few factors that could be improved. For instance, the storage shelf is uncovered, and therefore, the pellets aren't protected during rain. Also, you need to fix the felt strip on the lid after a while as it falls off. Keeping these minor issues aside, this is actually a terrific grill for pellet grill lovers.
Related article: Best Steel For Griddle | Cook Lots Of Yummy Foods At A Time
Yoder Brand Overview
Do you know the tagline of Yoder? It's "Competition Grade BBQ Products." Fairly enough, they do justify their tagline by making competition-quality smokers and grills since 2007.
Similar to the Pitts and Spitts, it's also a US-based BBQ product manufacturing company. Although they started their journey much later than Pitts and Spitts, currently, they are ruling as one of the most well-known smokers and grill manufacturers. However, the USP of Yoder products lies in their exclusive craftsmanship. In fact, many of their smoking accessories have won some international prestigious competitions due to their incredible workmanship.
Considering the expensive price tag, you might ignore them being unnecessarily high-end. But trust me, they provide excellent value for the money
Based on different cooking temperatures, Yoder grills and smokers can run up to 12 hours. Another great advantage of their grilling gadgets is that you can smoke, roast, sear, or BBQ according to your needs.
Despite being high-priced, why are the popularity of Yoder products increasing day by day? What do you think? All thanks to their versatility and high-functioning features. Besides, solid construction and ease of use also play a vital part to please the customers. Nevertheless, let's review their most popular pellet grill, YS 640s.
Yoder YS 640s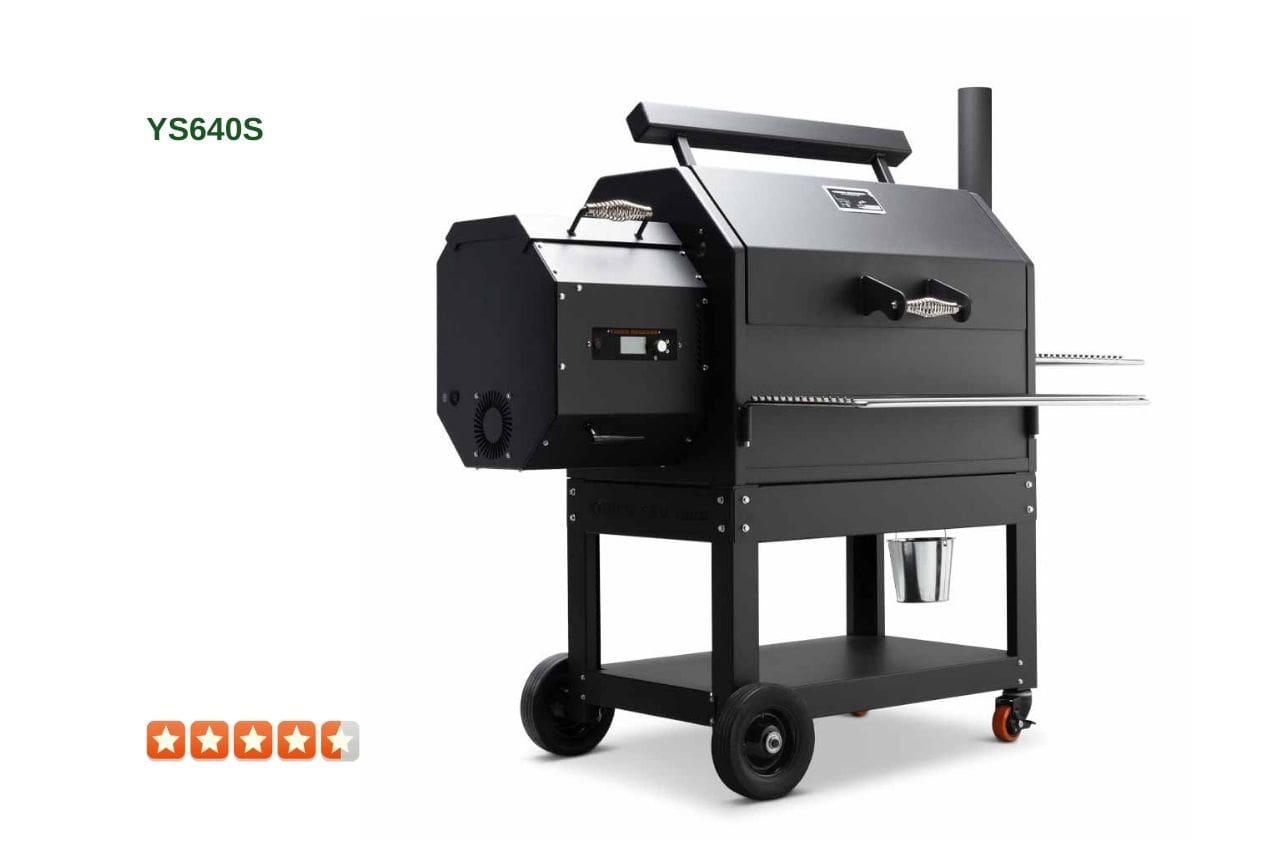 It is basically a premium-grade pellet grill from Yoder that represents its reliability, stability, and efficacy. As you already know, it's a competition-grade pellet grill to offer an unfailing smoking experience both at home and beyond.
Key Features
A total of 1070 square inches of cooking space
Two 16″ ×20″ cooking grates
20 pounds pellet hopper
Wi-fi enabled
150°F-600°F temperature range
One of the best-selling points about this excellent pellet pit is the two integrated food probes for monitoring the temperature correctly. Next, the 10 gauge steel construction is truly commendable as well. Whether you feel like grilling briskets, pork butts, turkeys, or chicken, the 1070 sq. inches grilling surface is more than enough.
On top of that, there's around 12-inches of headroom to extend the smoking area.
But the most distinctive feature of this pellet grill is the opportunity to direct over the flame grilling. That's what makes the expensive price tag justified.
However, similar to the Maverick 1250, you get a 10-year warranty for this product as well followed by a 3-year warranty on the AC controller, and 4 years on the igniter. Talking of the ceramic igniter, it's a wonderful add-on for rapid and seamless ignition. Look for versatility in grilling and you will end up having the Yoder YS 640s.
Living up to the reputation of Yoder, it boasts extraordinary temperature control with industry-leading connectivity.
Beyond Wi-Fi control, it also reacts to any sudden change in heat flow per pellet burn rate. Isn't that great? Best of all, the ease of use with the simplest "set it and forget it" operation lets even a novice pitmaster prepare the tastiest meal ever. Try this pellet grill once and rest assured that you will be a forever Yoder fan.
Why Should You Buy It?
If we highlight the most notable features of this power-packed pellet grill, we find the following key points.
Outstanding heat retention to smoke in colder climates
Durable, full-steel construction
The variable displacement damper lets the grill sear as well
Direct flame grilling, thanks to the access door to the heat diffuser
Includes high-performance casters for hassle-free mobility
Why Should You Avoid It?
Compared to most other pellet grills, Yoder needs longer to be preheated. But it's nothing to be worried about. Actually, the heavy-duty construction of the cook box is the reason behind it. But another disappointing factor of this amazing pellet pit is the retail price. Unlike most other smokers in this segment, it charges a bit more which is not so budget-friendly.
Related article: Best Controller For Traeger To Revitalize Your Old Grill
Pitts and Spitts Maverick 1250 vs Yoder YS 640s Comparison Chart
| Area of Comparison | Pitts and Spitts Maverick 1250 | Yoder YS 640s |
| --- | --- | --- |
| | | |
| Cooking Surface | 1250 square inches | 1070 square inches |
| Pellet Hopper Capacity | 35 pounds | 20 pounds |
| Portability | Average Portable | Average Portable |
| Cooking Barrel Construction | 7 gauge steel | 10 gauge steel |
| Warranty | 10 years | 10 years |
| Price | Relatively Expensive | Relatively Cheap |
| Full-steel | Carbon steel and stainless steel | Full-steel |
| Best for | Home and business | Commercial use |
| Check Price | Check Price | Check Price |
Pitts and Spitts vs Yoder: Head to Head Comparison
Considering the outdoor cooking capabilities, both P&S and Yoder are unbeatable in their own terms. Unless you draw a head-to-head comparison, choosing one of these two is quite challenging. So, let's compare their prime specifications below to pick the winner.
Cooking Surface
In terms of cooking surface, several models offer several dimensions. If we compare the Maverick 1250 and Yoder YS 640s, we see that the P&S smoker offers more cooking area. That's why the Pitts and Spitts win the race here by offering an extensive grilling surface.
Hopper Capacity
The second most crucial component of a pellet smoker is hopper capacity. The bigger the hopper capacity, the longer burn the grill offers.
Here we see that the Maverick 1250 from P&S beats the Yoder 640s having a way bigger hopper capacity. Whereas the P&S grill can hold up to 35 pounds of wood pellets, the Yoder one can hold 20 pounds.
As these two pellet grills are of similar features and represent their respective brands, we can easily conclude that the Pitts and Spitts products offer more hopper capacity. Therefore, they will let you smoke longer.
Material
As we review the P&S Maverick 1250 and Yoder YS 640s, we see that the P&S grills are a combination of stainless steel and carbon steel. On one hand, the cooking chamber of the Maverick 1250 consists of carbon steel whereas the lid and wor shelf are made of stainless steel.
On the other hand, the Yoder grills are full-steel grills with more reliable construction.
Temperature Control
Though both brands offer outstanding temperature control, the Yoder is a bit ahead in this regard. Especially, their S-series products are intelligently designed with one of the best microprocessors in the industry. As a result, the Yoder YS 640s provides unfailing temperature control.
Thanks to the next-generation ACS board, it can read even the slightest change in the heat flow due to the cooking door opening or putting cold meat on the grill. It can even read the pellet burn rates quite efficiently.
Durability
Having all-steel workmanship, the Yoder grills are more long-lasting. As they are designed to withstand a lot of use, you can smoke a huge amount of meat repetitively.
On the other hand, P&S products are also decent in terms of longevity. But the Yoder ones are matchless in this regard.
Budget
If budget is an issue, we don't recommend the Yoder one as it is high-priced and not really affordable. So, in terms of great value for money, P&S products are preferable. Although the Yoder grills offer unique features and functionalities, you cannot get them with a mid-range budget.
WiFi Connectivity
Both Yoder and P&S pellet pits are wifi enabled. But the Yoder one offers an additional feature such as the Adaptive Control System along with WiFi connectivity- cloud connectivity by FireBoard.
Warranty
Both the products on this list are backed by a 10-years warranty by their manufacturers. The Maverick 1250 offers 10 years warranty for the barrel, 3 years for the PID controller, and 1 year for other parts.
And the Yoder YS 640s is backed by a 10-years warranty on the grill body, 3 years on the control system, and 3 years on the igniter 
Which One You Should Buy?
Considering all the pluses and minuses, we highly recommend the P&S pellet grills as the budget-conscious pick. Besides, their feature-loaded performances won't disappoint you. On the other hand, the Yoder grills are surely more heavy-duty, but they are the best for commercial use.
Plus, they can sustain rough and repetitive use. So, it's better to spend your hard-earned money in Yoder if you are running a restaurant. Otherwise, for regular household usage, a P&S pellet smoker is a great purchase, indeed.
FAQs About Pitts And Spitts VS Yoder
Final Verdict
Here we put an end to the debate of Pitts and Spitts VS Yoder. To make this argument as fair as possible, we compared two of their flagship grills for your better understanding.
While reviewing the P&S Maverick 1250 and Yoder YS 640s, it's evident that the P&S products are slightly ahead in terms of wider grilling surface, bigger hopper capacity, and more affordable price points.
On the contrary, a Yoder wood pellet grill seals the deal by offering more long-lasting construction and better temperature control. So, choose your grill wisely according to the feature you value the most.
If you want more cooking space, go for Pitts and Spitts.  If you value the terrific construction quality, Yoder should be your pick. They are, indeed, built to last. Needless to say, you are going to spend a marvelous time with your smoker regardless of your selection.
Our Other Product Comparisons