When we are talking about electric smokers, two names immediately pop into our heads, Masterbuilt and Bradley. Undoubtedly, both of them produce some amazing smokers for smoking, grilling, and BBQing. But if you need to choose one between Masterbuilt vs Bradley smoker, which one should you go for? Who provides the better value for the money?
Well, Bradley offers some additional features such as the automated Bisquettes feeding system. But that costs some extra bucks. On the other hand, Masterbuilt is a more pocket-friendly option for the same budget. Aside from the budget, you should consider the ease of use, making mechanism, and durability as well, right?
So, let's compare two of their most popular models of electric smokers and try to figure out the better bargain.
Overview of Masterbuilt 30-Inch Digital Electric Smoker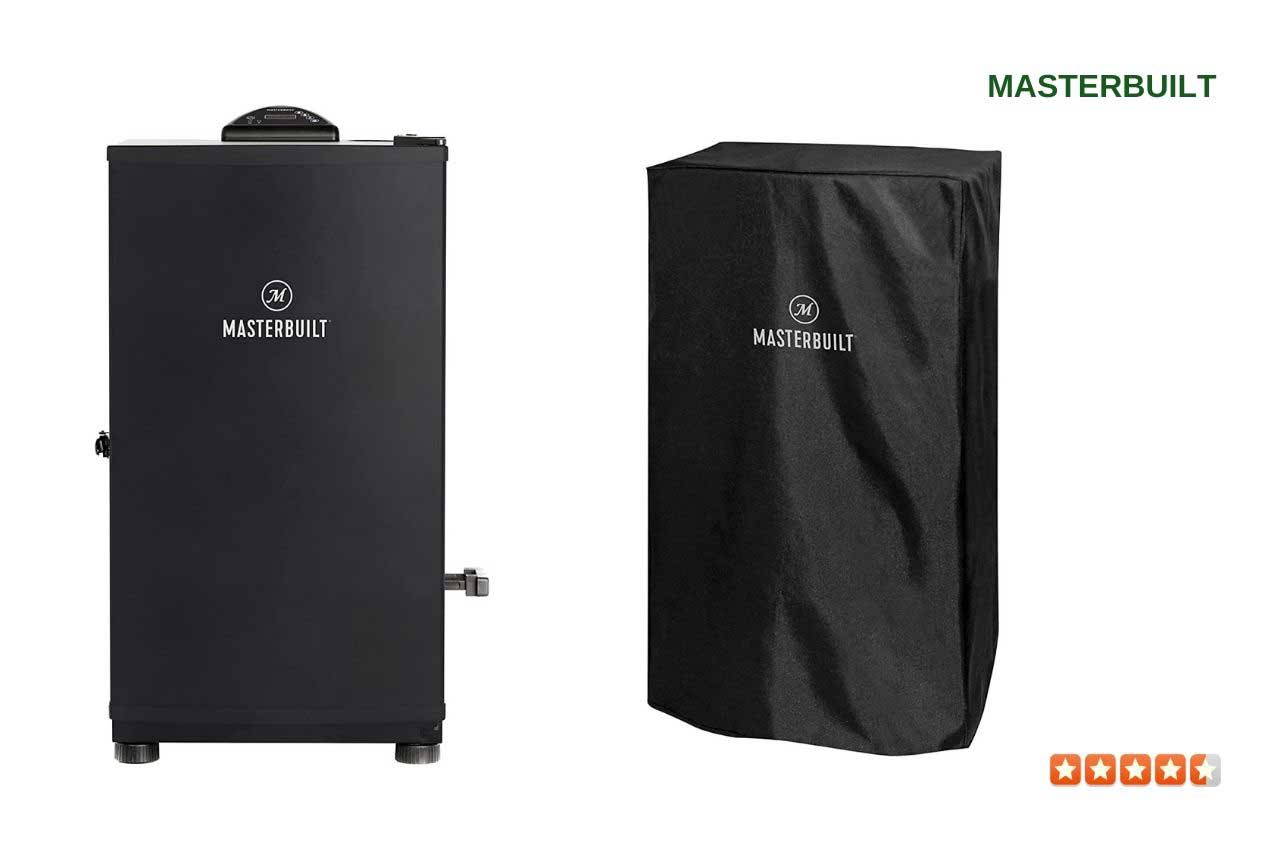 Well, the very first thing to draw your attention to this wonderful smoker is the sleek black finish. The matt black exterior is really eye-catching. Secondly, you will be blown away by the patented side wood chip loader. You don't need to open the door for refilling it frequently. What a great add-on, isn't it? 
However, the overall dimensions of this electric smoker are 20.47″W×19.88L×33.26″ H. And you get around 711 square inches of cooking surface.That means you can smoke 2 turkeys, 4 pork butts, 4 racks of ribs, and 6 chickens at a time. We think it's large enough to accompany you to your next family get-together or backyard BBQ. What do you say?
Talking of other amenities, the smoker is capable of high heat retention, thanks to its fully insulated body. Therefore, you can expect even and consistent cooking without any hot or cold spots. Be it meat, fish, or seafood, all the ingredients are evenly cooked with an authentic smoky smack. And as it's an electric smoker, you just need to plug it in and set the digital controls to adjust the temperature. On that note, the digital control panel is extremely easy to use with the power on/off feature. Even a beginner can get competition-ready results with this outstanding smoker from Masterbuilt. Upon analyzing the best electric smoker consumer reports, we found almost zero complaints regarding this smoking tool.
You can literally master the art of smoking using Masterbuilt products and this smoker lives up to their name as well. That being said, you can easily set and adjust the cooking temperature and time with the inbuilt digital panel. Moreover, you get a UV-resistant cover to protect the smoker. The polyurethane-coated cover is water-resistant as well.
Talking of the thermostat temperature control, it allows an even smoking experience just like professionals do to cook restaurant-style foods. Above all, the four chrome-coated racks are extremely easy to clean without much hassle. Also, the 275° F heat setting is applicable for high-heat grilling that results in mouthwatering meals on the dinner table.
All things considered, this smoker provides great value for the money with its rugged and robust architecture. Surely, it will last a long time!
let's break down the Masterbuilt 30-inch digital smoker to find out its core specifications.
Key Features
A 30″ digital smoker with a cover
Four chrome-coated racks
Offers 711 square inches of cooking area
Patented side wood chip loading system
Digital control panel for ease of use
Even heating and smoking with the thermostat temperature control
High heat retention with the fully insulated ergonomics
Here are some key amenities that should be considered when you are going to invest in this Masterbuilt smoker-
Wonderful size-to-cost ratio
Affordable price range
Excellent body insulation for high heat retention
Useful wood chip tray system
Durable construction for long term use  
Aside from the plethora of advantages, the following minor issues bothered is a bit-
The new models don't come with the meat temperature probe like the old ones
Sometimes the thermometer reading is incorrect
The chip tray is way too small, should be a bit bigger
Overview of Bradley Digital 4-Rack Electric Smoker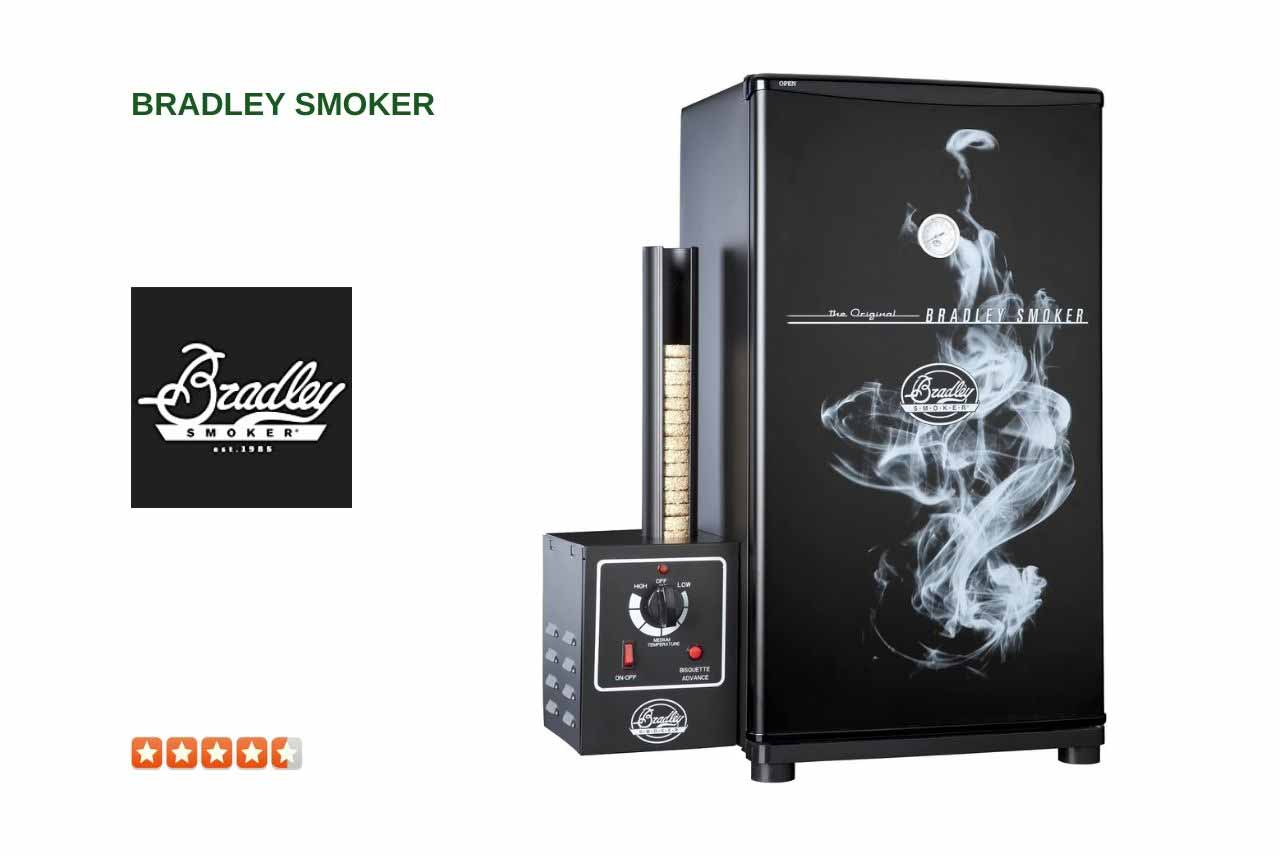 It is claimed by Bradley that they perfected the art of smoking food for novice BBQuers to expert pitmasters. And they proved it with some exceptional electric smokers in their lineup. Such a great tool for smoking food is our top selection from Bradley today. Whether you prefer cold smoking, hot smoking, or dehydration, rest assured that this power-packed product would never disappoint you.
We highly recommend this outdoor smoker for a hustle-free smoking experience. The dual heating elements let you control smoke and heat separately.
Resultantly, it's easier than ever to control the cooking precisely. Need to feed a crowd? No worries, the 4 accommodated cooking racks are there to smoke a large amount of food in a single batch. You get 572 square inches of the smoking area with dimensions of 34″×20″×18″. Aside from that, the stainless steel interior is extremely easy to clean. Moreover, it will not rust over time. And thanks to the powder epoxy exterior, the smoker will literally last a lifetime if you take care of it properly.
Another great add-on to this digital smoker is the smoke diffuser system that keeps the smoke flowing. Resultantly, there's no black rain that drips on the food to ruin its authenticity. But what makes it a better buy than most other electric smokers on the market is the automated wood feeder.
Just load the smoker with smoking Bisquettes and you will enjoy smoking for 9 long hours. No need to refill it at this time. Most importantly, the Bradley wood Bisquettes burn hot and clean for 20 minutes and never burn down to ashes. So, you can enjoy consistent cooking with genuine smoky flavor in the food.
Basically, this automated design makes Bradley a unique choice who loves "set it and forget it" smokers instead of babysitting the smoker throughout the entire period of smoking.
Here comes the competition of Masterbuilt, the 4-rack outdoor smoker with an extraordinary ergonomic design. Let's go through the key specifications first to point out its amenities and drawbacks.
Key Features
Insulated double-wall carbon steel construction
Comes with a multi-rack design to smoke more foods at a time
572 square inches of smoking surface
Easy-to-clean stainless steel interior
Offers up to 9 hours of smoking without refilling
Easy-to-operate digital interface
4 cooking racks to smoke chicken, turkey, briskets, ribs, and whatnot
You should go for a Bradley smoker if you want the following conveniences-
Even and consistent burning of the Bisquettes
Auto wood feeding system
Individual control over heat and smoke
Up to 9 hours of uninterrupted smoking
Prevents food grease dripping and mildew buildup
However, there are a few tradeoffs to this product as well. They are-
Bradley smokers are fairly expensive compared to other electric smokers on the market
Provides a smaller cooking area
You must buy the wood Bisquettes from Bradley only as they are not available anywhere
Masterbuilt 30-Inch Digital Electric Smoker vs Bradley Digital 4-Rack Electric Smoker Comparison Chart
| Area of Comparison | Masterbuilt 30" Electric Smoker | Bradley Digital 4-Rack Electric Smoker |
| --- | --- | --- |
| | | |
| Cooking Surface | 711 square inches | 572 square inches |
| Dimension | 33.26×19.88×20.47× inches | 34×20×18 inches |
| Weight | 45.9 lbs | 75 lbs |
| Inner Material | Stainless Steel | Stainless Steel |
| Portability | Average Portable | Average Portable |
| Warranty | 10 years | 10 years |
| Price | Relatively cheap | Most Expensive |
| Check Price | Check Price | Check Price |
Masterbuilt vs Bradley Smoker: Side by Side Comparison
As both the smokers have loyal fanbases, it's quite challenging to come to a conclusion without a head to head confrontation.
On that note, we will offer a quick rundown here on both Masterbuilt and Bradley's prime features to determine which wins over whom.
So, let's begin the battle!
Cooking Surface
The first feature of these two popular smokers to contradict is the grilling surface. Upon comparing their dimensions, both are close to each other. Both of them have four cooking racks. But surprisingly, the Masterbuilt 30″ smoker offers around 711 square inches of smoking area.
On the other hand, the Bradley one falls behind in the race providing smaller area than the Masterbuilt. It offers 572 square inches of cooking area. So, with the Masterbuilt one, you can smoke 2 turkeys, 4 pork butts, 6 chickens, and 4 racks of ribs at a time.
But the 11×13 inches size of the Bradley cooking grids will bug you the most. Yes, you can smoke the same food as Masterbuilt but when it comes to smoking a full packet brisket, it will be tough.
Smoking Features
Masterbuilt models usually offer custom smoking features along with independent heating elements. You can choose any of the five different smoke settings. So, they are built for both high-heat cooking and low&slow smoking. There is a patented side chip loader to refill the smoker without opening the door every time.
In the case of Bradley, you need not refuel it frequently, thanks to its automatic wood-feeding system. They basically use Bisquettes that are automatically fed into the cooking chamber every 20 minutes. As a result, you can easily count how many pucks you need to smoke your meat perfectly. Also, Bradley models contain adequate pucks to smoke for nine hours consistently.
This is what makes them a better choice for BBQ without babysitting the smoker.
Heating Elements
Unlike Masterbuilt electric smokers, Bradley incorporates two heating elements in their products. One is the temperature control system and the other one is the automated Bisquettes feeding system. On one hand, this makes them more efficient for precise heat control. But the negative side is it runs the risk of being damaged more as there are more parts to manage.
Budget
In terms of budget, undoubtedly the Masterbuilt wins the race. It's true that Bradley smokers are more feature-loaded.
At the same time, they don't come free. With the same price, you can get much bigger Masterbuilt smokers to feed a couple of crowds.
Moreover, Bradley smokers need specifically Bradley Bisquettes which are not available other than them.
Surely, that counts as a flaw on the part of these outdoor smokers.
Control Panel
Bradley is a bit more convenient in this regard as it offers a separate control panel.
Resultantly, you can keep it away from the smoker so that it doesn't get subjected to bad weather conditions.
But Masterbuilt doesn't come with this amenity. You will find the control panel set with the smoker itself.
That's why you need to make sure the panel isn't affected by moisture in any way.
Weight
Between the two models described above, the Bradley smoker weighs 75 lbs which are way heavier than the Masterbuilt one.
Weighing only 45.9 lbs, the Masterbuilt smoker is more manageable as an outdoor product.
Temperature Setting
The maximum temperature setting for the Masterbuilt model is 275° F whereas Bradley offers 250° F heat capacity at best.
So, in terms of high heat smoking, Masterbuilt is slightly ahead.
Which One You Should Go for?
Well, it's difficult to answer in a word. Rather we would suggest deciding on your priorities first.
Many people like Masterbuilt for its reliable construction, extensive cooking surface, and ease of use. Most importantly, Masterbuilt smokers are way more pocket-friendly compared to any of their competitors. They also offer excellent heat retention with precise temperature control.
But if you want a "set it and forget it" smoker, go for Bradley. Their automated design doesn't require adding wood manually. Rather, the cooking chamber is automatically fed with a new puck every twenty minutes. That surely is a big plus, especially for beginners.
Aside from this exclusive feature, Bradley is pretty much defeated by Masterbuilt in most other aspects. Almost the same size as a Bradley smoker as a Masterbuilt offers less cooking space but costs way more.
So, if you believe in the "the simpler the better" policy, go for a Masterbuilt digital smoker.
Here we sign off from the discussion of Masterbuilt vs Bradley smoker. Both of them manufacture some world-class smokers to cook restaurant-style food at home.
But Masterbuilt is the race winner in terms of the affordable price range, simplicity of use, and wider cooking space.
On the contrary, Bradley smokers are identifiable from miles away, thanks to the automated mechanical Bisquettes feeding system.
Those who want hassle-free smoking without refilling the smoker manually should definitely try them. However, which one is your pick between the two? You can share in the comment section below.
Happy smoking!
Our Other Product Comparisons