Who doesn't love the intense smoky aroma while BBQing? But you need a good smoker to achieve that authentic smoke-filled flavor, right? Here comes the year-old debate between Weber Smokey Mountain vs Offset Smoker. People who love traditional smoking always prefer offset smokers that offer the most intensified smoky essence ever. At the same time, they are designed for low-and-slow cooking with close observations. So, those who prefer easier and faster smoking are more on the side of the WSM.
But if we draw a forthright confrontation between these two, which wins over whom in terms of the smoke profile, ease of use, versatility, and cost? Let's find out below!
What Is an Offset Smoker?
Also known as a barrel smoker, horizontal smoker, pipe smoker, or side firebox smoker, an offset smoker is a classic BBQing tool, specially designed for low and slow cooking. Though they have evolved a lot and nowadays you can find vertical offset smokers as well. Such smokers usually consist of a smoking chamber and a small firebox. And the firebox is placed on the right side of the cooking chamber.
Generally, the firefox produces adequate heat and smoke to flow through the chamber, and then it gets infused into the meat. It takes a good few hours to smoke the meat with your desired tenderness inside the crispness outside. The probable time of smoking a large cut of meat is around 8-12 hours.
Besides, you need to master the art of achieving the gold standards of these smokers which refer to the blue smoke to enjoy the finest flavor with the deepest delicacy. And you need to closely monitor the smoker to maintain a consistent heat flow as well.
So yes, offset smokers are a bit tricky to use. But the end results will certainly leave you awestruck with the ultimate smoke density.
Pros and Cons of Offset Smokers
Now, let's look forward to the amenities and drawbacks of using an offset smoker at a glance.
Infuses unparalleled smoky aroma into the food
Larger cooking space
Could be used as a grill as well
Separate firebox to add fuel without affecting the smoke in the cooking chamber
Needs close observation to control heat and smoke
More suitable for experts
The outer part is made of steel amd is subjected to rust and corrosion
Challenging to maintain temperature in wetter weather
Being notably weighty, they are difficult to carry
Opposed to the offset smokers, the Weber Smokey Mountain is a vertical smoker. It's the only dedicated smoker by Weber, the name needs no introduction. Actually, they are the modified version of the Weber kettle grill with an additional middle pipe and a water pan. 
Unlike offset smokers, the WSM cooks way faster. At the same time, they are easier to operate. Also, they offer a pretty decent smoke density to make your meal flavorful enough.
Although traditional BBQ enthusiasts claim that they cannot reach the depth and intensity of smoking like a classic offset cooker. But they don't need babysitting either. That is surely a big plus on the part of a WSM cooker. However, to focus on the smaller details of these two top-tier smokers, let's review two of their crowd-favorite models below.
Here are the key conveniences and minor flaws of WSM-
Cooks way faster than offset smokers
Occupies minimal ground space
Lightweight and therefore, easily portable
Comes in three different sizes
Very easy to operate
Removable fuel door to add charcoal easily
Great value for the price
Smaller cooking area compared to offset style smokers
You cannot use them as grills
Cannot provide the smoke intensity as an offset cooker
Dyna-Glo Signature Series Heavy-Duty Vertical Offset Smoker
As you can see, this vertical offset smoker comes with an extensive grilling space. Surely, you can cook for a couple of crowds with this multipurpose machine. Yes, you can use it both as a smoker and a grill. Besides, there is a cool-touch spring handle not to burn your hands when you need to open it.
And thanks to the analog temperature gauge, it offers exact temperature reading both for the grill zone and the smoke zone. Resultantly, you can maintain a consistent temperature flow throughout. Another great addition to this wonderful offset cooker is the heavy-gauge steel construction in the body. This smoker is surely built to last. Talking of the five chrome-coated cooking grates, they are highly heat-resistant for grilling, searing, or barbecuing without burning the food. 
Certainly, it's a great tool for low and slow cooking whether you need to smoke briskets or ribs. Besides, the deep delicacy it offers in the meat is unimaginable. You literally explore a new era of BBQ with this fantastic smoker. Best of all, it includes a removable offset charcoal grate and an ash pan. As a result, you can quickly dispose of the ash without any hassle.
Besides, we truly enjoyed the easy mobility, thanks to the strong and sturdy steel wheels. Transportation of this massive smoker literally became a breeze with those oversized wheels. However, the assembly takes a few hours. So, don't rush and follow the instructions properly.
Another thing to remember is that never use this grill cum smoker as a heater. Overall, it's a great purchase if you love that traditional smokey flavor with a large cooking capacity.
So, give it a try!
When we talk about offset smokers, this heavy-duty charcoal smoker and grill is one of the nicest choices, for sure. Let's check out its key features below.
Key Features
Consists of 5 chrome-plated cooking grates
Offers a total of 1382 square inches of cooking surface
Easy access to the food with the cool-touch spring handle
Includes oversized steel wheels for easy transport
Heavy-duty stainless steel construction
Weber 22-Inch Smokey Mountain Cooker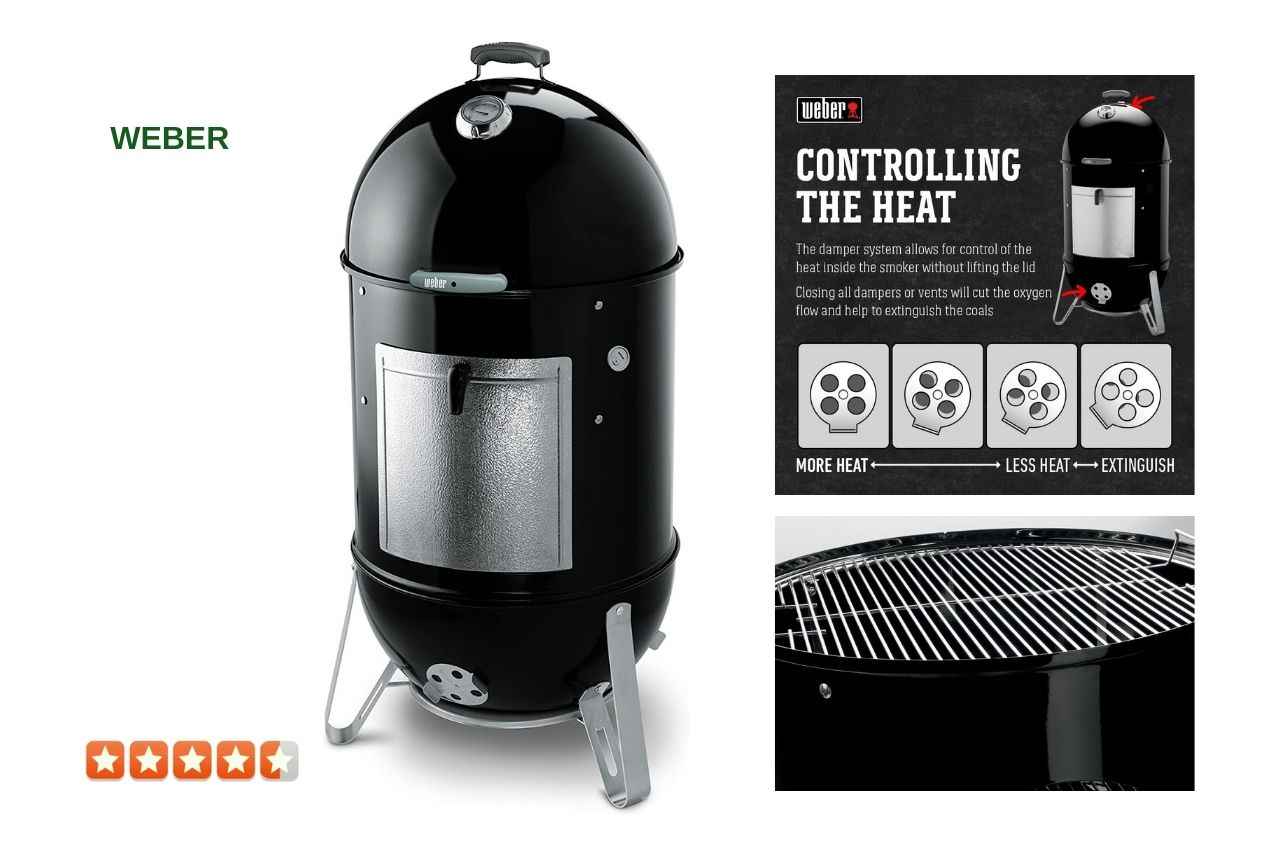 Now, it's time to break down the WSM 22″ cooker to point out its pluses and minuses. Let's start then!
If you prefer ultimate heat retention along with heavy-duty construction, the 22″ Weber Smokey Mountain is one of the greatest choices of all time. Talking about its special features, you get precise temperature control with the dampers. Besides, the porcelain enameled lid, bowl, and center section permit superior heat retention for even and consistent cooking. At the same time, the porcelain coating keeps them rust-free for years. If you close the dampers completely, it will cut the oxygen flow which results in extinguishing the coals.
With the two spacious cooking grates, you can smoke large turkey/brisket and 6 racks of ribs at a time. An often overlooked feature is the water pan which adds moisture to the heat to keep the meat juicy. And thanks to the silicone temperature grommet, you can accurately check the internal temperature count.
Are you a beginner in this field? Then adding charcoal to the smoker is probably a nightmare for you. Not anymore. You can easily add charcoal by opening the removable fuel door. Weber produces mountain smokers in two other sizes as well- 14″ and 18″. So, you can choose according to your grilling needs. And the prices vary depending on the size. Nevertheless, the 22″ model offers 726 square inches of cooking area approximately.
Does it provide a great value for the price? Yes, it does as it offers adequate cooking space along with a cold smoking facility.
Key Features
Porcelain-coated lid, bowl, and center
Consists of two cooking grates
The large aluminum fuel door allows one to add charcoal easily
Easy temperature adjustments with the silicone temperature grommet
The high-tech stainless steel body makes the smoker durable
Dyna-Glo Offset Smoker vs Weber 22-Inch Charcoal Smoker Comparison Chart
| Area of Comparison | Dyna-Glo Offset Smoker | Weber 22-Inch Charcoal Smoker |
| --- | --- | --- |
| | | |
| Cooking Surface | 1382 square inches | 726 square inches |
| Dimension | 45.5×24.9×58.8 inches | 24×23×48.5 inches |
| Weight | 124.3 pounds | 68 pounds |
| Outer Material | Steel | Aluminum |
| Inner Material | Stainless Steel | Stainless Steel |
| Fuel Type | Charcoal | Charcoal |
| Portability | Portable | Average Portable |
| Warranty | 10 years | 10 years |
| Price | Relatively cheap | Most Expensive |
| Check Price | Check Price | Check Price |
Weber Smokey Mountain vs Offset Smoker: Which One You Should Buy?
In order to come to a conclusion on this hot favorite topic, it's essential to run a side-by-side comparison of both smokers. Let's do that to pick the winner.
Cooking Surface
For smoking monster cuts of meat regularly, offset style smokers offer better bargains as they have more cooking space.
On the other hand, a WSM offers a decent smoking surface but still not as spacious as an offset one.
Fuel and Efficiency
As offset smokers lack insulation unlike the WSM, they use a lot of fuel. Also, their low and slow cooking process takes hours to cook food and ends up consuming more fuel.
But a WSM offers adequate insulation to prevent heat loss.
Resultantly, you can cook faster using less fuel.
Versatility
In terms of cooking convenience, the offset smokers are slightly ahead as they can both smoke and grill.
On the contrary, a notable drawback of Weber Smokey Mountain and other vertical smokers is that they are designed for smoking only, not for grilling.
Cost
On one hand, offset smokers offer a wide price extent that ranges from $200 to $2000.
But at the same time, you need to spend around $800 to get a high-quality offset cooker. Other cheap smokers are poorly made and don't work well.
Saying that you can get a good quality WSM by spending $200-$500. They are excellent in quality and quite durable as well.
No wonder WSM is making a splash in the smoking pool.
Cleaning and Maintenance
Again, the WSM wins the race with very little maintenance.
Being enamel coated, the interior only needs to be wiped with a damp cloth. Besides, the removable ash tray and water pan are quite easy to clean. Furthermore, the grates need no seasoning. The durable enamel coating protects them from peeling or rusting.
Compared to the WSM, offset smokers are a clear mess as they are not free from food grease and debris. You need to deeply clean the smoker by taking out all its parts. That is pretty tiresome, we guess.
On the same note, these smoking tools run the risk of creosote forming inside. So, you need to be very detailed while cleaning them.
Nonetheless, offset smokers need seasoning too. The exterior steel part cannot be exposed to moisture.
Otherwise, it will rust over time.
Ease of Use
If you are a beginner, we won't suggest trying offset-style smokers as they require a certain level of expertise.
Maintaining consistent heat and smoke flow in an offset smoker is not everyone's cup of tea. You need to practice a lot to master the crafts.
On that note, WSM is very easy to use with precise temperature control. Also, they don't need babysitting to prepare a pleasant platter of meat.
Portability
Offset smokers are significantly big in size and take up maximum ground space. Being bulkier, they are difficult to carry.
But the Weber Smokey Mountain is fairly lightweight. So, you can comfortably carry them outdoors.
Having said that, they occupy minimal space and therefore are the best choice for city dwellers.
If you want to enjoy the art of authentic smoking, master the craft of an offset smoker. Because they are unrivaled when it comes to producing the deepest smoky essence.
But what if you are a beginner and opposed to the idea of monitoring food over hours?
Relax! The WSM is here to save your life. This "set it and forget it" smoker needs no babysitting, requires very little maintenance, and is extremely affordable.
But they don't produce the same amount of smoke as offset ones.
Hey, wait! That can be a plus if you live in a small apartment. Your neighbours might be bothered by the huge smoke an offset smoker puts out.
So, what's your thought regarding this Weber Smokey Mountain vs Offset Smoker argument? Have you decided on your pick?
Let us know by commenting. All the best!