For BBQ enthusiasts, smoking is one of the favorite ways of producing the most flavorful aroma while grilling or BBQing. But you must need a suitable cooking surface to achieve the enchanting result. On that note, Weber is a reliable name in this industry, especially for charcoal grill lovers. Both their Original Kettle Grill and Mountain Smoker are ruling the field invincibly. Having said that, they do share some common features to bless your BBQ platter palatably. But which is a better smoking tool in terms of effectiveness, durability, and design? To figure it out, here we go with an in-detail comparison between Weber Kettle vs Smokey Mountain.
So, let the battle begin!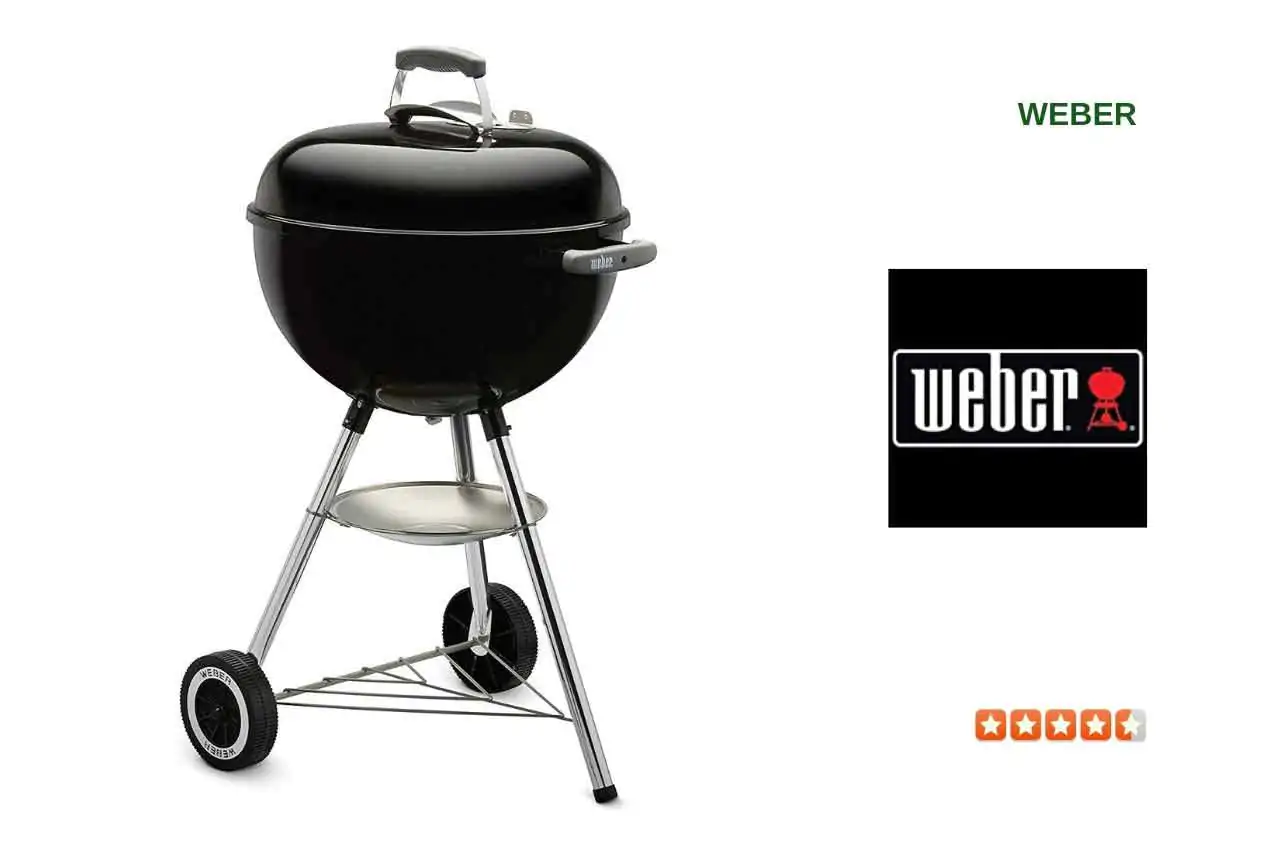 If you are a traditional charcoal grill addict, the Weber Kettle grill should be your pick. It lets you stay true to the root of charcoal grilling. Of course, there are tons of other amenities. Let's look forward to them.
Key Features
Porcelain-coated lid and bowl are highly heat resistant
Can hold up to nine burgers at a time
3D interactive assembly instructions make it easier to use
Avails a hassle-free one-touch cleaning system
Maintains a precise and consistent temperature throughout the grilling
Talking about this reliable charcoal grill, we have a lot to praise. Firstly, we were pretty impressed by the one-touch cleaning system that swiped the ash and debris into the ash catcher. Moreover, the ash-catcher is rust-resistant and resultantly, quite durable too. And for charcoal grill users, cleaning debris is the toughest task so far. If that becomes a breeze, nothing can be a deal-breaker for this well-made kettle grill, we guess!
Aside from that, the steel-plated cooking grates are the next big thing for this kettle grill. They are truly long-lasting and easy to clean. Whether you like direct or indirect grilling, these grilling grates are high temperature resistant with precise heat control.
Wondering how? Well, there are dampers to cut the oxygen flow completely to control the temperature according to your demand. You don't even need to lift the lid, can you imagine how convenient this charcoal grill is?
Best of all, it doesn't come with the risk of overcooking or undercooking food. The high-heat counteractive grill grates deliver an even grilling experience both for beginners and pros. To add more, there's a heat shield that doesn't let the lid handle get hot. And thanks to the angled lid hook, you can hang the lid on the side of your Weber grill anytime you want.
Most importantly, the grill facilitates easy transportation through the super-durable wheels. You can easily move it to the backyard from your kitchen. Overall, you get 240 square inches of grilling area that can hold a maximum of 9 burgers. That's pretty cool, isn't it?
Confused about the value of money? Worry not, with more than a reasonable price range, it is worth every penny while offering the authentic taste of charcoal grilling.
Advantages of Weber Kettle Charcoal Grill
Some notable good things about this Original Kettle Grill from Weber are-
Cleaning becomes a breeze with a single touch
Durable and rust-free ash catcher
Supports high grilling temperature
Very well-made alloy-steel architecture
Offers an effortless 1-minute assembly
Very affordable price point
Comes with a heat shield on the lid handle
Disadvantages of Weber Kettle Charcoal Grill
Well, there are some drawbacks as well. They are-
Occasionally, you may find grease dripping from the lid
Sometimes, the top doesn't fit correctly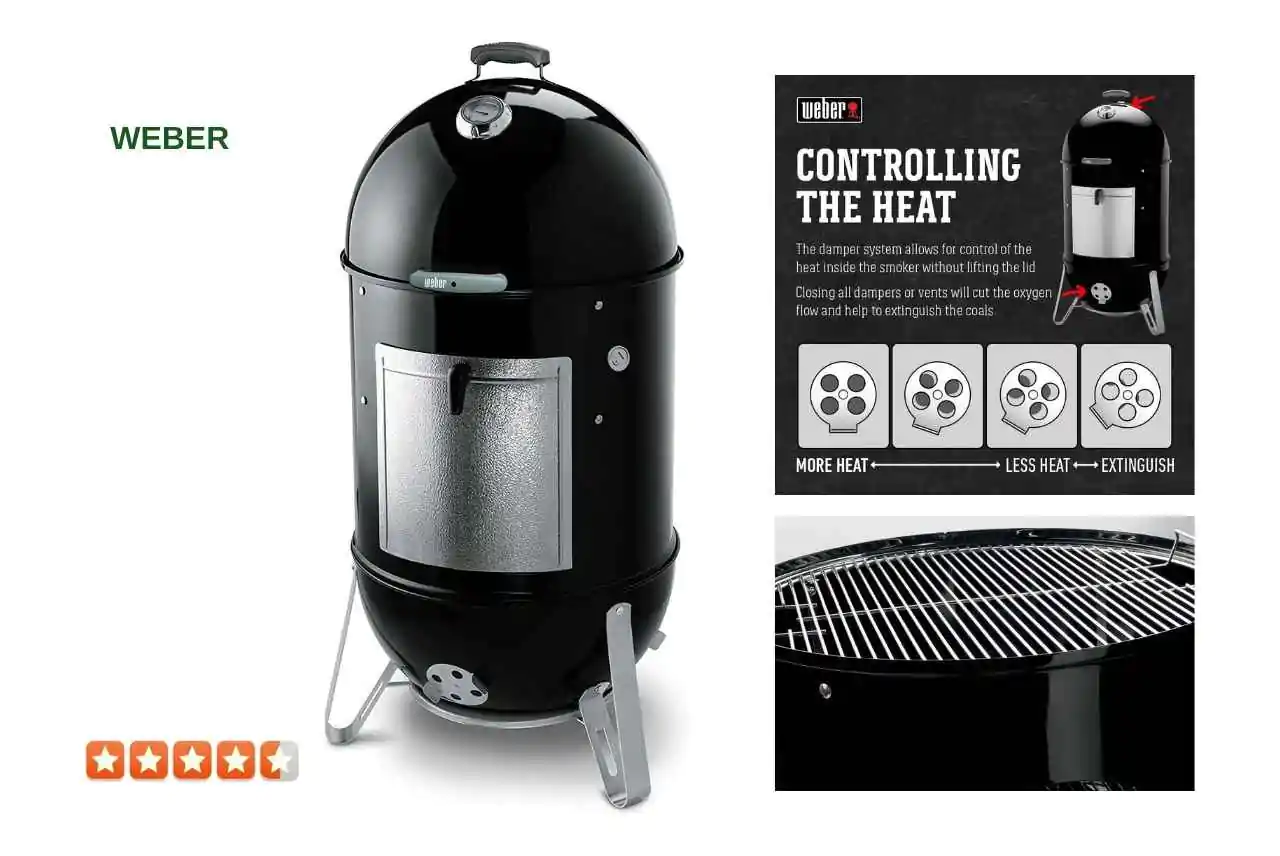 Weber Smokey Mountain is the only dedicated smoker by Weber with optimum smoking depth. Being equipped with some advanced features, the WSM is the new crowd-favorite model that needs no babysitting while BBQing.
However, the key specifications of this modified charcoal smoker are as follows-
Key Features
Delivers an authentic smokehouse flavor at home
Comes with two nickel-plated cooking grates
The porcelain coating makes the smoker rust-resistant
Can smoke a whole turkey and an entire ham at a time
Lasts more than a decade if used properly
Weber Smokey Mountain is available in three sizes, 22″, 18″, and 14″. Among these three, the 18″ size is the most popular model among the pitmasters, thanks to its less charcoal-consuming feature. Besides, it comes with two 18.5 inches of smoking grates that can accommodate an entire turkey at a time. That surely makes the smoker a hot deal.
We specifically loved the porcelain-coated lid, bowl, and center section of this medium-sized smoker. Not only are they rust and peel-free but also highly heat-compatible. No wonder it offers precise temperature control throughout. Another good thing about this heavy-duty charcoal smoker is its durable stainless steel construction. If you can take care of it properly, it will accompany you for more than a decade.
Moreover, the heat-resistant nylon handle makes the smoker easy to move. No way you will burn your hand while holding the handle. An often overlooked feature is the water pan which we think is the greatest add-on on this charcoal smoker. But why is it so special? Because it adds moisture to the temperature while grilling meat to retain its toothsome taste without overdrying them.
On top of that, there is a silicone temperature grommet that observes the inside temperature accurately. So, you don't need to monitor your food closely other than checking the grommet occasionally. The 18″ WSM is so easy to use even for beginners. The dampers let you adjust heat without lifting the lid. Overall, it's a good pick if you crave the genuine smokehouse flavor right at your home.
Yes, it's a bit pricey. But we don't think that's a trade-off considering its loads of feasible features.
Advantages of Weber Smokey Mountain
The key conveniences it comes with are pointed out below-
High-tech stainless steel architecture
A large aluminum fuel door to add charcoal
Occupies less ground space
Offers an internal ash pan to collect charcoal ash
Can smoke 4 racks of ribs at a time
Quite easy to operate
Comes with two 18.5″ wide smoking grates
Disadvantages of Weber Smokey Mountain
However, the following issues could be a little bit disappointing.
Costs way more than an Original Kettle Grill
A WSM cannot be used as a grill
The removable fuel door could be better
Weber Kettle vs Smokey Mountain: Head-to-Head Confrontation
In order to find out the best Weber smoker for you, we have analyzed both the smokers below from similar points of view. Let's see which swims over whom.
Temperature Control
In terms of temperature control, Weber Mountain Cooker beats the Kettle Grill model as it has a water pan. The pan moistures the meat continuously by letting you adjust the heat flow accordingly. 
 Opposed to it, the charcoal grill exposes the meat to high heat flow. Therefore, it's pretty challenging to maintain the exact heat count you need to smoke the meat perfectly.
Cooking Surface
Upon comparing both models of the same size, we see that the 18″ WSM offers 481 square inches of cooking surface.
On the contrary, the Weber Kettle Grill comes with 240 square inches of the smoking area.
So, if you want to feed a crowd, the Mountain Cooker is more suitable as it can accommodate more meat at a time.
Value for Money
If you consider the price for both charcoal smokers, it's hard to beat the Weber Kettle. It's way more affordable than the Mountain Cooker.
In fact, buying a kettle grill actually saves money that can build a mini WSM.
Yes, it's true!
Ease of Use
In terms of ease of use, the WSM wins the race. It has some incredible workmanship such as the water pan, built-in thermometer, and adjustable dampers. All these features help a lot adjust and maintain a precise heat flow.
The intensity of Smoky Essence
Although the Mountain Smoker is popularly known for delivering the authentic smokehouse flavor, according to expert pitmasters and traditional BBQ lovers, the kettle grill is unparalleled when it comes to producing the deepest smoky aroma.
The depth and intensity of the smoky smack are on another level with the Weber Original Kettle Grill.
In conclusion, it's evident that the two most crowd-pleasing smokers from Weber are designed for two different purposes. Although you can smoke meat with both, the Kettle grill is basically meant for high-temperature grilling. Whereas Smokey Mountain performs better for low and slow smoking.
Apparently, the Original charcoal kettle grill is a toast to the authenticity of classic charcoal grilling with infinite smoke intensity. On the other hand, the WSM is a modified version of that traditional kettle grill with some advanced features that cost significantly more. 
All things considered, the Weber Original Kettle Grill is a more budget-friendly option that can both smoke and grill. 
That's all about the debate between Weber Kettle vs Smokey Mountain. Hopefully, this guide helps you find the most convenient smoker according to your needs.
Happy smoking!
Our Other Product Comparisons