Who doesn't love some smoke-free campfire nights while cooking food on a smokeless fire pit? But to do so, you must have the right tool, right? On that note, let us walk you through this Solo Stove vs BioLite discussion, two of the most reliable names for producing smoke-free fire pits. They have a wide range of products for outdoor enthusiasts including fire pits, grills, stoves, power, gear kits, etc.
On one hand, Solo Stove offers some impeccable fire pits which are lightweight and portable. On the other hand, BioLite products are more technologically advanced with some flourished features. However, let's kick things up a notch in this review to figure out the winner between these two top-tier brands.
Solo Stove cares about creating some good memories with good products when you are outdoors. "Create Good" is their mantra to produce some incredible outdoor appliances. They started their journey in 2010 and since then ruled the home and camping gear field unparalleled. Although it's a Texas-based brand, the products are manufactured in China.
Fear not, that doesn't affect the build quality of their fire pits. In fact, they use high-quality stainless steel in all their products and therefore, is surely a solid choice for outdoor use. Moreover, Solo Stove contributes 1% of its total sales to organizations working to help the planet. And the 304 stainless steel construction of all their outdoor gears promises to last longer than its competitors. In terms of accessibility, Solo Stoves products are readily available on their website. And thankfully, they ship all over the world.
Besides, you can find your favorite Solo Stove fire pits from other retailers as well.
Jonathan, one of the two founders of BioLite was an avid camper. He along with Alec started the journey of BioLite in order to design a wood-burning camping stove that offers a smokeless fire. With that in mind, they took their prototype to a combustion conference in 2008 which was claimed to be portable, affordable, and energy efficient.
BioLite not only offers excellent smoke-free cooking solutions with its fire pits but also produces power and light solutions. Compared to other contemporary camp stove makers, BioLite offers some technologically advanced features such as Bluetooth. So, they are more popular with youngsters.
It is a New York-based company that manufactures its products in West Africa. As a climate-neutral brand, it has canceled around 600K tons of CO2 emissions in Africa which is really commendable. BioLite thoughtfully designs its outdoor gear with the motto of bringing energy everywhere.
Now, we will compare two of the best-selling fire pits from each brand below.
1. Solo Stove Bonfire Smokeless Fire Pit Review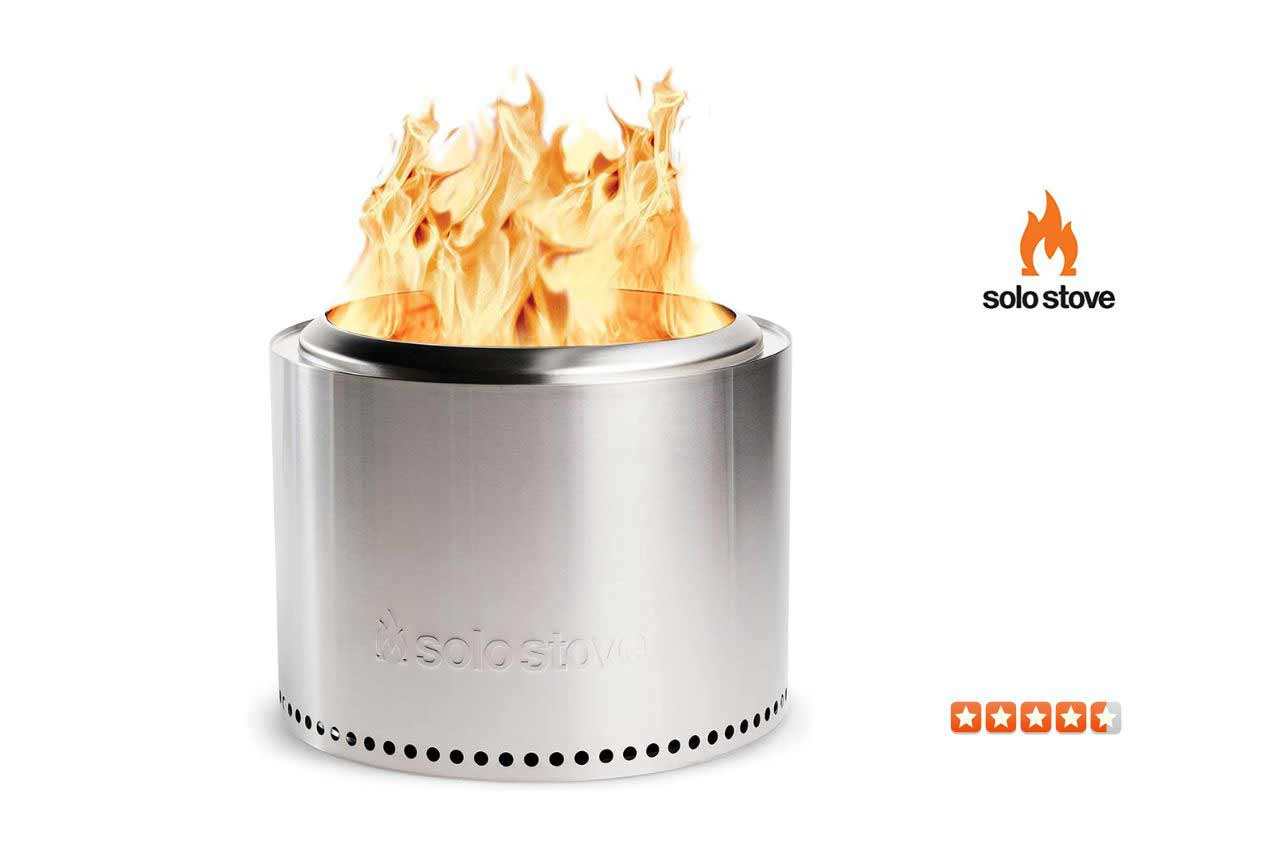 Let's kickstart our search for the best smokeless fire pit with the Solo Stove Bonfire model. The core specifications are as follows-
Key Features
A 19.5 inches large outdoor fire pit
Made of heavy-duty stainless steel like all other Solo Stove products
Made in a round shape with 20 pounds of weight
No assembly required
A portable wood burning fire bowl without requiring gas or propane
It's a modern-style fire pit from Solo Stove with a polished finish. With a durable double-wall design, the camping stove is all set to offer an unrivaled backyard fire experience. Thanks to its optimum airflow and burning process, no other fire pit can outperform it. Another important factor about this camp stove is that the minimalist design requires no assembly at all. Because it is brilliantly architectured with a singular construction without any parts.
Also, the portable structure is of great help to bring the fire pit to your backyard patio or camping site. Best of all, it produces almost no smoke. So, if you are worried about your clothes smelling like campfires, not anymore. Solo Stove lives up to its promises of no smoke with this exclusive Bonfire outdoor stove.
With a view to designing the best outdoor-friendly cooking gear, Solo Stove included a free carrying case with this stainless steel stove. As it burns natural wood, all you need to do is to flip the flame ring and enjoy the smokeless flame with family and friends.
Above all, cleaning becomes a breeze with this unique camping stove as it leaves fine ash only. Now, let's look forward to how the Bonfire works so efficiently without any fans or batteries. Well, the bottom vents facilitate the cool air to the fire and thus it ensures adequate oxygen flow.
Besides, there are top vents to take care of the little particles. You don't have to deal with any half-burnt logs that could produce smoke.
In order to protect the surface, the ash pan is elevated enough. Therefore, it won't block air circulation. Of course, credit goes to the base plate as well for letting the ash fall into the pan. Overall, it's a pretty decent deal for avid outdoorsmen who love to cook in the wild.
Solo Stove Bonfire Smokeless Fire Pit: Advantages
Here we go with the pros of this Bonfire wood burning fire pit-
Heavy-duty construction with 304 stainless steel
Thoughtful engineering ensures durability
A single unit fire pit without the hassle of assembly
Highly efficient burn without leaving any half-burnt logs
Lightweight construction to be carried easily
Solo Stove Bonfire Smokeless Fire Pit: Disadvantages
Aside from the pluses, we noticed the following minor flaws as well.
You need a separate cooking grate to cook with Bonfire comfortably
It's hard to clean if you drop any food while cooking
2. Review of BioLite Outdoor Smokeless Wood & Charcoal Burning Fire Pit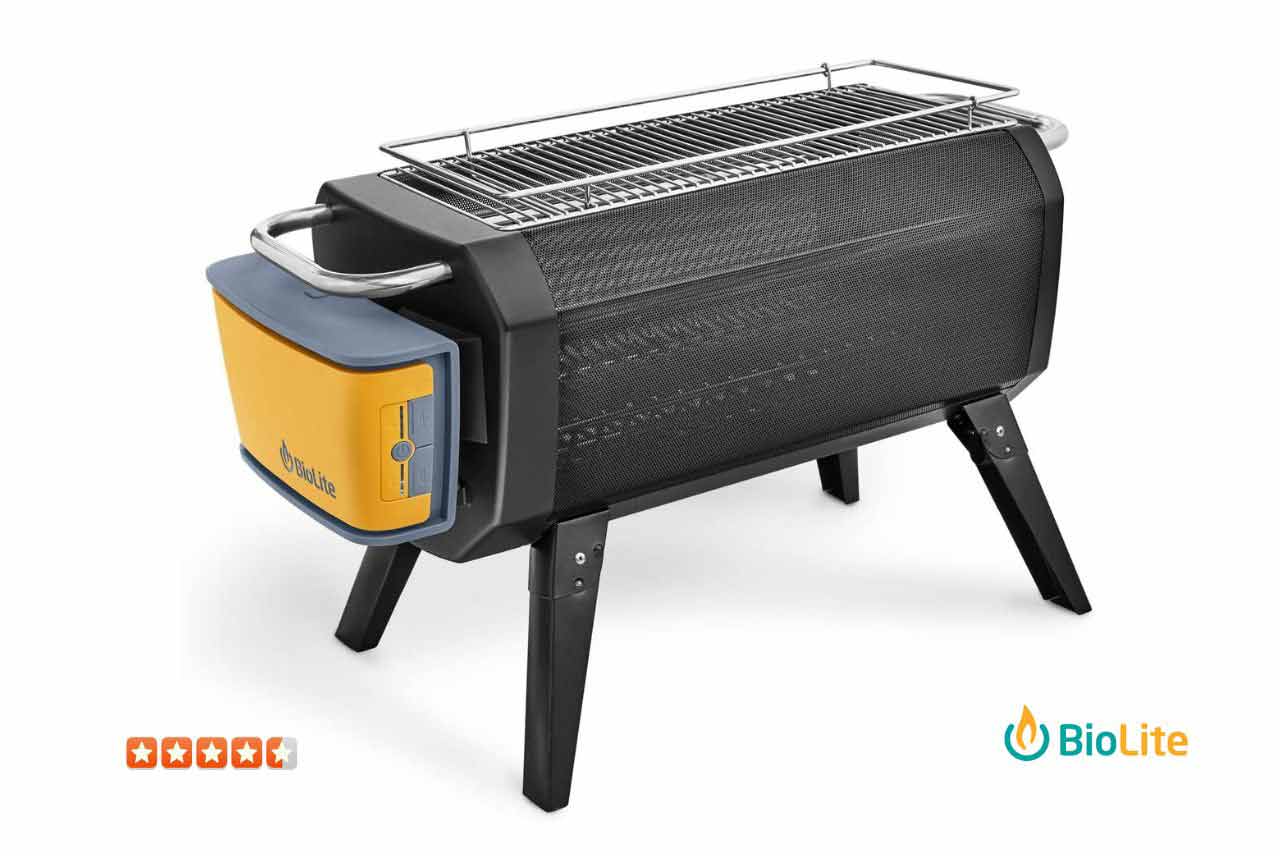 Moving on to the closest competitor of Solo Stove, we came up with the detailed review of BioLite wood and charcoal burning fire pit below.
Let's check out its fundamental features first.
Key Features
Uniform temperature to improve combustion with 51 air jets
Includes a 10,400 mAh pack that powers your fire up to 24 hours
The 360° viewing angle with the fire pit's X-ray mesh
Compatible with free BioLite Energy App both for Android and iOS
The removable grill grate lets you smoke, grill, or BBQ as well
Do you want your fire pit to go from spark to fire within 30 seconds? Okay, great! We have a wood-burning fire pit that lives up to your expectations. If you want to experience a hibachi-style grilling, the detachable cooking grate comes in quite handy.
You can slide the grate off to add more wood or charcoal anytime you want. All thanks to the fuel rack as well which allows using charcoal by being elevated. Whether you want to cook food with this smoke-free fire pit or roast sausages, rest assured that it won't fail!
Enough said? Not really, there are more to add. The efficient airflow system includes 4 fan speeds that let you control the intensity of the flame. Another exclusive feature of this BioLite fire pit is the X-ray mesh body. Therefore, you get to enjoy a front-row seat while having a 360° view.
Talking about portability, BioLite did an amazing job by including carrying handles on both sides. Furthermore, the folding legs make it more travel-friendly. If you break down the prime features, you will love the mesh sides that let the air in easily. Who doesn't love to enjoy the burning embers inside, right?
Another big plus for the BioLite fire pit is that you can use its battery to charge your smartphone as well. But the best part of this outdoor gear lies in the power to quickly start the fire, unlike traditional fire pits.
BioLite Outdoor Smokeless Wood & Charcoal Burning Fire Pit: Advantages
Talking about its advantages, the following facts could make you fall in love with this wood burning fire pit.
Controls smoke with the patented air flow technology
Needs no seasoning or preparation before cooking
Fits up to 4 pieces of firewoods
Offers 18″×7.25″ grilling area
You can control the flame size with the App without leaving your sit
BioLite Outdoor Smokeless Wood & Charcoal Burning Fire Pit: Disadvantages
Nevertheless, there are a few drawbacks as well. They are-
If the fan stops working, it will produce smoky fire
Not as durable as Solo Stove Bonfire
Solo Stove vs BioLite Comparison Chart
| Area of Comparison | Solo Stove Bonfire | BioLite Fire Pit |
| --- | --- | --- |
| Bluetooth Connectivity | | |
| Material | 304 Stainless Steel | Stainless Steel |
| Weight | 9.1 kgs | 9.1 kgs |
| Dimension | 19.5×19.5×14 inches | 14.88×22.99×15.24 inches |
| Capacity | 10 Firewoods | 4 Firewoods |
| Cooking Grate | No | Yes |
| Assembly Required | No | No |
| Bluetooth Connectivity | No | Yes |
| Bluetooth Connectivity | On Amazon | On Amazon |
Solo Stove vs BioLite: An In-Depth Analysis
Still confused about your pick? Why not conduct a feature-by-feature analysis on both of their top-selling products to select the true race winner?
So, let's dive into the face-to-face battle.
Durability
In the durability department, Solo Stove Bonfire is the clear winner as it's made of the finest stainless steel. Besides, it has a more solid architecture that can withstand every element of the environment.
At the same time, the heavy-duty stainless steel makes it prone to rust and corrosion.
So, surely, Solo Stove outlives BioLite in terms of longevity.
Portability
If we compare the weight and size of both products, they are close to each other. But what makes the difference is the design.
The BioLite Fire Pit includes four foldable legs and two carrying handles.
Resultantly, it's easier to carry to the camping sites. It also takes less space to be packed up compared to Solo Stove Bonfire.
Smoke-Free Fire
Although both brands boast of their smokeless designs, Solo Stove wins over the BioLite Fire Pit with its patented laws of thermodynamics. As a result, it will produce smokeless fire no matter what the situation is.
On the contrary, BioLite depends on a fan system for resulting in smoke-free flame.
So, if the fan somehow stops working, you have to endure the smoke.
Cooking Convenience
Well, here's a big difference between the two top-tier smokeless fire pits. With the BioLite one, you can cook anything you like, all thanks to its removable grate. Also, there's a fuel rack that you can raise while using charcoal.
But the Solo Stove Bonfire lacks the ability to cook without any convenient cooking grate. It is basically designed for roasting sausages, not for cooking.
Even though you try to cook something without adding a cooking grid to it, chances are, the food will drop below and you cannot take it out without extinguishing the fire.
What a hassle!
Tech Features
Are you tech savvy? Then go for the BioLite FirePit as it offers some awesome technical features. You can connect the pit to your phone via Bluetooth using the BioLite app. Thus, BioLite lets you control the flame according to your need using your Android or iOS device.
Also, it has a yellow device attached to the sidewall which is basically a power bank to charge your phone.
Versatility
Due to the cooking grate, you can turn the BioLite Fire Pit into a regular BBQ grill as well. The stainless steel grate can slide to add charcoal when needed.
But that's not the case with the Bonfire. It is basically a fire pit not to be used as a BBQ grill as it has no cooking grid.
That's all about the Solo Stove vs BioLite comparison. Hopefully, you have decided on your favorite fire pit already based on its pros and cons. Being the two leading brands, neither of them manufactures useless products. So, you can't go wrong with any of the two.
But Solo Stove smokeless stoves are a bit pricey. At the same time, they offer more reliable construction as well. It's the simplicity and singularity of the unit that makes it a great purchase overall. On the other hand, if cooking is the ultimate deciding factor to go for a fire pit, there's no better bargain than BioLite.
So, choose your fire pit wisely to enjoy a smoke-free performance.
All the best!
You May Also Like To Know